Home /
AEG KAL portable ticket machine
The AEG KAL ticket machine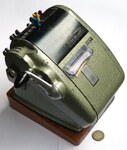 ---
The AEG KAL portable ticket machine
Video
Ticket details
History
Manuals
Articles
Patents
Links
---
The AEG KAL portable ticket machine
This is a small ticket machine nicknamed the Mini-AEG. It was used by the Dutch national railways in the early 1970s. It could be attached to a stand for use at a ticket kiosk, or could be hung on a shoulder strap for use by a bus or train conductor. The ticket details are set using the input pins at the front of the machine, and then a turn of the crank on the side will print a ticket which exits the top of the machine.
The machine number is shown on the top of the machine (6643) and this is printed very small and sideways on every ticket. On the bottom of the machine are two windows, one showing a 7-digit register of the total value of all tickets, and the other a 5-digit counter of the total number of tickets. The last four digits of the latter is printed on the ticket.
If you tilt the metal button on top of the machine, the top cover is unlocked and hinges open. The paper roll can be easily be refilled. There is also a locked cartridge containing a second paper roll. For every ticket that is printed, a copy is printed on the second roll. This cartridge is held in a metal frame that can hinge outwards, and then you can slide it out and replace it with a fresh one. The locked cartridges could be emptied at and refilled in the central office. Hidden below the cartridge frame is the ink roller, which can be removed by pulling a metal tab. The metal printing cylinder is also visible. On the left is a yellow plastic stylus in a holder. The stylus can be used to turn the date wheels on the printing cylinder to set the correct date at the start of the day.
---
Video
---
Ticket details
The print on a ticket consists of four parts: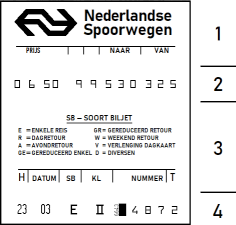 A header containing the logo of the Dutch railways. The printing plate for this was removed when the machine was decomissioned, so that it could no longer print any valid tickets.
A line of numbers containing the 4-digit fare price, two unknown digits, a 3-digit destination code, and a 3-digit origin code.
A fixed header containing the list of the types of ticket.
A line of numbers and letters, containing the date (set by using the stylus inside the machine), type of ticket, class, machine number (small and vertical), and ticket number.
The input levers are as follows, from left to right:
4 levers to set the fare, up to 99.95 guilders. The last lever only has two settings, 0 and 5, so the prices are always multiples of 5 cents.
2 levers, one for the ticket type and one for the class. See table below.
3 levers for the destination. Every station has a unique 3-digit code.
3 levers for the departure station, using the same code system as the destination. These levers are smaller and set back slightly, because for most ticket machines this setting remains unchanged.
Ticket Type

| | |
| --- | --- |
| E | Enkele reis (Single) |
| R | Dagretour (Return) |
| A | Avondretour (Evening return) |
| GE | Gereduceerde enkel (Reduced single) |
| GR | Gereduceerde retour (Reduced return) |
| W | Weekend retour (Weekend return) |
| V | Verlenging dagkaart (Extension daytime ticket) |
| D | Diversen (Miscellaneous) |
| B | ? |
| O | ? |

Class

| | |
| --- | --- |
| II | Second class |
| I | First class |
| S | ? |
| X | ? |
| Y | ? |
| Z | ? |
| KII | ? |
| KI | ? |
| U | ? |
| O | ? |
---
History
The Allgemeine Elektricitäts-Gesellschaft (AEG) was a German company that was founded in 1883 in Berlin, and which made many electrical goods, from white goods to electric train locomotives. There were many different subsidiary companies to cater for different types of products. For example, Olympia Büromaschinenwerke was their subsidiary that made typewriters and adding machines. To complement their involvement in electric trains and trams, there was a subsidiary AEG Fahrkartendrucker GMBH which made many kinds of ticket machines, from large self-service machines in the station halls, machines for use in kiosks, and portable ones for use by conductors. This subsidiary was set up in the 1930s, based in Hennigsdorf, but after the war it was restarted in Kassel, West Germany, in the factory building where Junker aeroplane engines used to be built.
The ticket machines that AEG Fahrkartendrucker made were very succesfull all over Europe. The national railways of the Netherlands started to use AEG's large ticket printing machines in their major stations in the 1950s. These machines printed thick cardboard tickets. Smaller stations generally used pre-printed tickets in most cases, and else had to write out tickets by hand. Conductors would also issue hand-written tickets. To cater for this AEG developed a portable ticket machine, the KAL machine. These were popular in Germany itself, and also came into use in the Netherlands in about 1972.
---
Manuals
AEG - Plaatskaarten Apparaat - Handleiding voor het gebruik en Voorschrift afgifte (PDF, 25.6 MB or archive.org)
Nederlandse Spoorwegen
March 1970
44 page comb-bound book
155mm × 210mm × 7mm
This book contains two manuals that the Dutch railways provided for users of the mini-AEG. The first 13 pages, Handleiding voor het gebruik, is the user's manual of the machine itself. The second part, Voorschrift afgifte en verantwoording AEG-Plaatsbewijzen, is 31 pages and explains the duties and responsibilities for handling tickets, the collected fares, and the administration thereof.
Bedieningsinstructie Mini-AEG (PDF, 3.41 MB or archive.org)
Nederlandse Spoorwegen
August 1986
8 page stapled booklet
149mm × 210mm
Afrekenstaat AEG-Plaatskaartenapparaat
Nederlandse Spoorwegen
1981
Single page forms
209mm × 296mm
These are forms used for recording the issued tickets and fares collected during a shift. Some forms have the name of the station already pre-filled.
---
Articles
Here are a few mentions of the mini-AEG and its train tickets in Dutch newspapers.
---
Patents
Patent
Filing date
Publish date
Name
Description
DE 835,077
02-10-1948
02-08-191
Fritz Haseloff; Licentia GmbH
Control cartridge with locking mechanism
See also: GB 714,161; US 2,822,751.
DE 1,137,583
11-07-1958
04-10-1962
Fritz Haseloff; Licentia GmbH
Portable ticket machine
DE 1,202,041
02-01-1959
30-09-1965
Ernst Wittkowsky; Licentia GmbH
Portable ticket machine with input pins
See also: GB 887,612.
DE 1,276,384
19-07-1960
29-08-1968
Fritz Haseloff; Licentia GmbH
Portable ticket machine with settable and fixed digits
DE 1,774,297
18-05-1968
16-12-1971
Fritz Haseloff; Licentia GmbH
Portable ticket machine with control cartridge
DE 1,922,326
02-05-1969
12-11-1970
Fritz Haseloff; Licentia GmbH
Portable ticket machine with detection of end of paper
DE 7,117,047 U
03-05-1971
12-06-1974
Licentia GmbH
Control cartridge
---
Links
---
© Copyright 2023 Jaap Scherphuis, mechcalc a t jaapsch d o t net.