Home /
American Adding Machine
American Adding Machine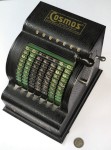 ---
American Adding Machine
Video
History
Models
Articles
Advertisements
Patents
Links
---
American Adding Machine
This adding machine looks like a small cash register. It has a 7-digit register at the top, with corresponding input levers in front of that. The input method is somewhat unusual. The part of the metal case along each lever's slot is corrugated, with the indentations numbered from 1 to 9. You put your forefinger into the indentation of the digit you want, and use your thumb to lift up the lever until it reaches the forefinger. According to the patent, this pinching motion is faster and more accurate than other input methods.
When a number has been inputted, it is added by pulling the large lever forward. This also resets the input levers. The input levers can be reset without adding with the small lever on the side of the machine. To clear the register, pull the adding lever when no input has been set.
The writing on front plaque is "AMERICAN ADDING MACHINE, AMERICAN CAN COMPANY, ADDING MACHINE DIVISION, CHICAGO, ILL.", and shows the serial number 19771. It also lists the patent date Aug. 27, 1912. The serial number indicates this machine was made in 1914 or 1915.
It is missing its original rubber feet, and two felt strips have been glued on instead. There should also be two small metal plates screwed to the bottom that keep the case locked in place.
---
Video
Below is a video I made that demonstrates the American Adding Machine.
---
History
Jervis R. Harbeck started his professional career at the turn of the century, running his father's mine. A few years later it was sold, and he used this money to enter the packaging industry by buying an interest in the Gem Fibre Package Company. During the rest of the decade he was granted many patents, which were assigned to the company. Many of them pertain to making cardboard tube cans with tin metal ends (somewhat like a Pringles tube). The company was renamed the Kemiweld Can Company, and in 1911 was sold to the American Can Company. There Harbeck was appointed the president of the subsidiary Charles W. Shonk company in 1911.
The Charles W. Shonk Company was a manufacturing company that made lithographed metal items such as advertising signs and beer trays. William M. Holloway worked there and designed a small coin bank with a counting mechanism that recognises the inserted coins, registers the total, and only unlocks when 10 dollars had been reached. This has some similarities to an adding machine, and it is possible this was the inspiration to make it. Holloway designed the internal mechanism, and Harbeck designed the input method. Their patents were assigned to the Charles W. Shonk Company, but apparently it was considered better to use the parent company to brand the adding machine.
A separate Adding Machine Division was set up which released the American Adding Machine in 1913 for $35. By the end of the year they were making 100 of them every day. Over the next several years, further models were developed, including ones with a printing mechanism.
Jervis Harbeck became a vice president of the American Can Company. This was not his only job, as he also pursued his interest in car engines, becoming president of the Duesenberg Motor Corporation until that was sold to Willys (Duesenberg moved to Indianapolis to start making luxury cars instead of engines and racecars). Harbeck left the American Can Company in 1922 for other pursuits, after which the company lost interest in adding machines. Their adding machine division was sold to rights to the Add-Index Corporation, who mostly made the cash register version. The American Adding Machine Company made the non-printing version only with rapidly diminishing success.
---
Models
The first generation of American Adding Machine, of which mine is one, was retroactively named model 0. After a few years it was slightly upgraded to the model 00 which has an extra digit in the register (8 digit register, still 7 digits of input) and a repetition counter. This is a single digit counter at the front left which is incremented with every addition, and activated by a lever on the left. This was replaced by the model 5, which is functionally identical, but has a smooth black finish and red input levers.
They also developed a version that prints the results - first models 1 and 3 (it is unclear what the differences are, and whether there was ever a model 2) and then the model 4. The latter has the same smooth finish and red keys as the non-listing model 5. Model 4 was also available with a cash drawer for use as a till.
The dates and serial numbers in the table below are taken from the American Digest of Business Machines of 1924, and pertain only to the machines made by the American Can Company. They stopped production in May 1922 and sold the rights to the Add-Index Corporation, which made the cash register version of the model 4, and the American Adding Machine Company, which only produced the model 5. I do not know if they continued the numbering, nor how many they made.
Model
Date
Serial No.
Description
Non-listing
0
1914
-
1916
1,000
-
35,583
7-digit register, patterned finish, bare metal input levers
00
1916
-
02-1918
16,100
-
41,200
8-digit register, repeat lever, patterned finish, bare metal input levers
5
02-1918
-
11-1921
41,200
-
75,550
8-digit register, repeat lever, smooth finish, red input levers
Listing
1, 3
?
-
09-1917
6,600
-
22,000
8-digit register, patterned finish, bare metal input levers
4
09-1917
-
05-1922
22,000
-
75,200
8-digit register, smooth finish, red input levers
---
Articles
---
Advertisements
---
Patents
Patent
Filing date
Published date
Name
Description
US 1,131,628
19-05-1911
09-03-1915
William M. Holloway, Charles W. Shonk Company
Coin Bank
US 1,036,614
10-04-1912
27-08-1912
Jervis R. Harbeck, Charles W. Shonk Company
Adding machine input method
US 1,337,599
25-10-1912
20-04-1920
William M. Holloway, Charles W. Shonk Company
Adding machine mechanism
See also: CH 69,504, DK 20,277 C, FR 463,085, GB 1913/21049.
US 1,186,578
04-11-1912
13-06-1916
William M. Holloway, Charles W. Shonk Company
Coin Bank
US 1,154,239
18-07-1913
21-09-1915
William P. Dun Lany, Charles W. Shonk Company
Coin Bank
---
Links
The National Museum of American History has several examples of the American Adding Machine: Model 0, Model 0, Model 00, Model 1 or 3, Model 4, and Model 5.
Rechnerlexikon does not yet have this adder, but does have a page of American Adder material.
Christian Hamann has a Model 00.
The Science Museum Group has a Model 0.
Compuseum has a Model 5.
Rechenmaschinen Illustrated has pictures of Models 0, 4, and 5.
bss1250's YouTube channel has videos about repairing an American Adding Machine, model 0: Part 1, Part 2, Part 3.
---
© Copyright 2022 Jaap Scherphuis, mechcalc a t jaapsch d o t net.