Home /
Benton Tally Register
Benton Tally Register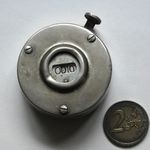 ---
Description
History
Advertisements and Articles
Patents
Links
---
This is a 3-digit hand tally register. It is round, just under 6 cm in diameter, with a small round window in its centre in which the counter can be seen. It sits comfortably in the hand, and there is normally a ring attached to the back in which you can insert your ring or index finger for a more secure hold. Pressing the button on the side with the thumb or index finger increments the counter. On the back there are two small knobs with which the tens and the hundreds digits can be set to zero. To clear the counter, press the button until the units digit is zero, then turn the knobs so that their digits become zero, too.
Its mechanism is very simple. The three number wheels are placed such that the outer two overlap the middle one, so that the three digits that will form the register are directly next to each other. The middle number wheel turns in the opposite direction to the others so that carry can be performed directly between the wheels. The units and tens wheels both have a small arm that interacts with a gear on the next wheel to push it one step forward. All the wheels have a spring mechanism that clicks them into the correct alignment.
---
History
These tally registers were first made by the Benton Manufacturing Company, 9 Bethune Street, New York, from at least as early as 1884. I found a mention that the maker was James O. Benton, presumably the director of that company. I have not found any patents for it, though there are many patents for fare registers by a certain John Bradbury Benton of New York, who seems to have worked for the Railway Register Manufacturing Company until the late 1880s, but it is not clear if there is any relation. These tally registers were used extensively in the railroad industry, where they were often called pole counters.
The Benton Company made the tally register for many years, apparently without any material changes in design. From 1907 a more expensive 4-digit version was made as well, which had the 4th digit visible in a small hole above the middle digit of the main counter. At some point after 1917 production was taken over by the Tally Register Corp., New York. They had an exclusive license from Benton to produce both versions, and did so until the 1960s and possibly 70s. It may be that other companies produced clones of these tally counters.
My tally counter has no serial number, and no indication of a brand name or manufacturing company, and came without its box. I am therefore not sure which company made it, nor when it was made during the long production run. While the oldest counters have Benton Mfg. Co. engraved or stamped on them, it seems that Benton also made unmarked ones for resale. Later counters by Tally usually had the company name moulded on the back plate. One way to date it may be the fonts used for the digits, but this is tricky too, as all three wheels use a different type.
---
Advertisements and Articles
Here are various advertisements and other mentions of this tally register that I found in online archives.
---
Patents
I have not found any original patent for the Benton Tally Register. There are many patents by one John Barnaby Benton for other kinds of registers (for example: passenger register US 162,717, US 167,057; liquid register US 213,492; fare registers US 227,206, US 229,662, US 235,407, US 235,498; ballot box US 327,645; etc.) but it is unclear if he was also responsible for designing this one. There is one later patent describing a modification of it. This patent has drawings of the mechanism of the Benton Tally Register, but just describes it as the "conventional flat type tally register" and has no reference to an original patent.
| Patent | Filing date | Priority date | Name | Description |
| --- | --- | --- | --- | --- |
| US 2,812,908 | 17-02-1954 | 12-11-1954 | George F. Fox | Tally Register |
---
Links
Retrocalculators has one with a Benton Mfg. Co. inscription on the front.
---
© Copyright 2018 Jaap Scherphuis, mechcalc a t jaapsch d o t net.