Home /
Checkbook Balancer
Checkbook Balancer / Checkbook Auditor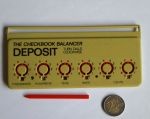 ---
The Checkbook Balancer
Video
Patents
Links
---
The Checkbook Balancer/ The Checkbook Auditor
This is a small adding machine with a 6-digit register. It came with a small stylus with which you can turn the dials, and when you dial a digit clockwise it gets added to the register. A ballpoint pen can be used instead of a stylus. This machine has a number of features that make it unique.
Its size matches that of an American checkbook, and the bar allows you to attach it into such a book. It can then be used to keep track of all expenditures. The machine has dials on both sides, with the front marked "Deposit" and the back marked "Deduct". When inside a checkbook it hinges around the bar, allowing you to flip it upwards to use the other side. Dialling a digit clockwise on this side subtracts it from the register. This seems to be the only dial adder that has this feature, though there are many troncet type adders (i.e. adders with vertical sliders) that allow subtraction by using the other side.
Adjacent number wheels have their gear teeth at different heights, which allows them to be closer together. As the digits shown in the register are actually located on those gear teeth, the digits are visibly alternately shallower and deeper in the regsiter windows.
There is no reset mechanism. To reset, just subtract the current total shown in the register.
This calculator was designed by William Kasner, and he filed patents for it in 1970. Presumably this adder was produced around that time. It was manufactured by Diamond International Corp., in Pasadena, California. These adders were sometimes used as advertising giveaways, usually by banks such as the Highland Federal Savings of Los Angeles. A version of this adder was made in Hong Kong under the name Checkbook Auditor.
---
Video
---
Articles and advertisements
I have not found any articles or advertisements for this adder.
---
Patents
Patent
Filing date
Publish date
Name
Description
US 3,696,995
27-09-1971
10-10-1972
William Kasner
Carry mechanism
US 3,706,875
02-12-1970
19-12-1972
William Kasner
Checkbook Balancer
See also: CA 968,326.
---
Links
Detlev Bölter has a page about The Checkbook Balancer.
Rechner Lexicon has a page about the Checkbook Auditor from Hong Kong.
Rechnen Ohne Strom has a page on plastic dial adders which features the Checkbook Balancer.
---
© Copyright 2019 Jaap Scherphuis, mechcalc a t jaapsch d o t net.