Home /
Facit
Facit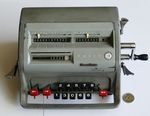 ---
Facit
The Facit C1-13
Video
Books and Manuals
Promotional material
Paraphernalia
Newspaper and Magazine Advertisements
Patents
Links
---
Facit
Facit AB was a Swedish company founded in Stockholm in 1918 that made mechanical calculators. The calculators were designed by Karl Viktor Rudin, based on the classic Odhner pinwheel design. In 1922 Facit AB was bought by AB Åtvidabergs Industrier, a company based in the municipality Åtvidaberg which made office furniture and supplies. They made various high quality pinwheel calculators until in 1932 they made their first 10-key calculator, again designed by Rudin. It was named the Facit model T and became very successful. It was so successful that they continued to make variations of this design, including electrically driven versions, for the next four decades.
Here is a quick overview of the mechanical models that Facit made. The information is taken from the serial number data found on the Rechenautomat.de website.
Standard pinwheel models
Model
Year
Number made
Remarks
Original
1918-1924
1910
Standard
1924-1927
5212
Standard&Facit10
1928-1931
5439
Facit S
1935-1954
40444 (?)
(The serial number data for 1947 is suspect, and may be about 25000 too high)
10-key models 9×8×13
Model
Year
Number made
Remarks
Facit T
1932-1939
10800
left shift for division at most 7 places due to rev counter size.
Facit TK
1936-1954
139500
DE719718, left shift for division goes all way
Facit NTK
1954-1957
54700
New case, better sound insulation.
Facit C1-13
1957-1969
315100
New case.
10-key models 9×10×19, Moving carriage
Model
Year
Number made
Remarks
Facit LX
1938-1954
11450
Facit NLX
1954-1956
2360
New case, better sound insulation
Facit C1-19
1956-1960
6394
New Case
10-key models, With transfer mechanism(s)
Model
Year
Number made
Remarks
Facit CM2-16
1959-1967
129800
Facit 1004
1967-1969
25218
Facit CM2-13S
1964-1965
190
Facit CM2-16S
1964-1964
30
In the late 1960s they made a deal with the Japanese company Sharp to make desk calculators using Sharp's electronics. However, in the early 1970s the appearance of handheld electronic calculators made mechanical calculators obsolete, and Facit AB was unable to change quickly enough, and was bought in 1973 by Elektrolux.
The Facit C1-13
The model C1-13 is mechanically very similar to their first Model T 10-key calculator from 1932, but with a more modern exterior design by Sigvard Bernadotte.
The main register at the top left has 13 digits, the revolution counter at the top right has 8 digits, and the input register at the bottom left has 9 digits. Each of these is cleared by one of the three levers on the side of the machine. It has a number of clever innovations that set it apart from other pinwheel calculators:
Moving input register. In most other rotary calculators, the register and counter are on a movable carriage, and they move relative to the stationary input register that the user sets by moving pins. On the Facit it is the input register that moves, while the Main register and counter remain stationary. This keeps the machine compact, because the moving carriage is entirely internal, inside the case.
Ten-Key input. The moving input register carriage allows the user to input the numbers via a 10-key keyboard. Each time a key is pressed, one pinwheel is set to the chosen digit, and the input register is moved to the left. In this way the chosen number is visibly built up in the input window in way that is very similar to electronic calculators. Note also that each pinwheel that comes into view is locked into place and can no longer change value. On traditional pinwheel machines the crank handle keeps a long rod pushed in that releases the pinwheels for input, but such a locking mechanism is unnecessary here.
Automatic subtraction/division selection. Another neat trick is that there is no switch to choose between addition/multiplication and subtraction/division. Such a switch is present on the Walther and the Curta, and sets the direction in which the revolution counter should move, i.e. whether it should count additions or subtractions. On the Facit, if the first turn of the crank is a subtraction (i.e. counter-clockwise) then it automatically switches to subtraction/division mode, and the revolution counter will display 1 and a red dot will appear next to it.
The engraved plate on the bottom of the machine bears the serial number 556,853. The first C1-13 had serial number 550,001 and was made in 1957, and my machine must have been made later in that year. It still has a round Åtvidaberg button on the front and on the back separated letters spelling out FACIT. It also has a logo from Blikman & Sartorius, who were a Dutch office supplies company who were the main Facit importer in the Netherlands. From 1957 to 1969, about 20,000-30,000 were made every year, for a total of about 315,000.
The casing can easily be removed. First unscrew two of the small levers. The casing is held in place by metal clips that hook into the holes for the two removed levers. Simply push in the clips and the casing comes free.
There are two further noteworthy innovations:
Bi-directional pinwheels. When a digit from 1 to 4 is chosen, the pinwheel is rotated downwards a corresponding number of steps, which causes the same number of pins to be extended. If keys 5 to 9 were to turn the pinwheel even further, the keys would need a large amount of travel, or be much harder to press compared to the keys for the smaller digits. To avoid this, keys 5 to 9 move the pinwheel in the upwards direction 1 to 5 steps. The first step causes a single part with 5 pins to be extended, and the next steps extend the same four individual pins as before. A similar idea is used in the Monroe, where a single part supplies 5 gear teeth, though its implementation is very different.
Carrying mechanism on a separate axle. The registers are kept simple and compact by separating out the carrying mechanism. A separate axle contains pins which are shifted to the side by any number wheels that overflowed and which then engage with the next number wheel to perform the carry. This axle moves in tandem with the axle containing the input pinwheels. This is also something that is used in the Monroe calculator, but in that machine the moving carriage means that carries cannot be performed on the left-most digits when the carriage has moved to the left. Having a stationary register and counter avoids this problem. The C1-19 did have a moving carriage for the register and counter, but its carrying mechanism was completely revamped so as to avoid the problem.
The serial number that is engraved on the internal frame is 241,517.
---
Video
---
Books and Manuals
Short-cut calculations with FACIT (PDF, 13.4 MB)
Åtvidabergs, Sweden.
February 1958
48 page stapled booklet
149mm × 210mm × 3mm
How to become an expert computor on FACIT CS1-13 (PDF, 8.02 MB)
FACIT, Åtvidabergs-Stockholm-Sweden.
December 1957
28 page stapled booklet
149mm × 210mm × 2mm
---
Promotional Material
FACIT NEA card
1954?
1-sided card
105mm × 217mm
FACIT TK card
January 1954
2-sided card
148mm × 203mm
FACIT ESA-0 flyer
1954?
2-sided paper
212mm × 298mm
FACIT NTK flyer
April 1954
2-sided sheet
210mm × 296mm
FACIT C1-13 flyer
March 1960
2-sided sheet
210mm × 296mm
FACIT CA1-13 flyer
March 1960
2-sided sheet
210mm × 296mm
FACIT CM2-16 flyer
May 1963
2-sided sheet
210mm × 296mm
FACIT CS1-13 flyer
September 1957
2-sided sheet
210mm × 296mm
FACIT CS1-13 flyer
June 1960
2-sided sheet
210mm × 296mm
FACIT CS1-13 leaflet
June 1960
4-page leaflet
197mm × 273mm
---
Paraphernalia
Here are some Facit keychains.
After Facit was sold to Electrolux, the brand name continued to be used for various calculators and typewriters. Here are some Dutch price lists from 1980 and 1981.
---
Newspaper and Magazine Advertisements
Here are some of the adverts for various Facit models.
This is an extract from a book about advertising mascots, and describes the Facit Wizard.
---
Patents
Patent
Filing date
Publish date
Name
Description
SE 74,358 C
17-07-1929
24-05-1932
Karl Viktor Rudin
Facit model T
See also CH 151,383, DE 535,576 C, US 2,108,596
DE 575,873 C
06-10-1931
04-05-1933
Bengt Carlström
Facit model T
See also US 1,927,771.
CH 184,043
13-01-1934
01-08-1936
Bengt Carlström, Rolf Erik Annerén
Facit model TK
See also DE 719,718 C, US 2,243,075.
---
Links
Rechenautomat.de has an extensive history of Facit AB, and info on serial numbers.
John Wolff shows all the models and extensive description of the mechanism of the C1-13.
Cris Vande Velde shows a Model T (1932) as well as the earlier Facit Standard from 1929.
---
© Copyright 2017-2019 Jaap Scherphuis, mechcalc a t jaapsch d o t net.