Home /
Golden Gem
Gem / Golden Gem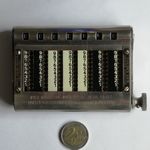 ---
The Golden Gem
Video
History
Articles and Advertisements
Patents
Links
---
The Golden Gem
The Golden Gem is a chain adder which was made in the USA from about 1904 until the 1930s, possibly even until the 1950s. My Golden Gem has serial number 48988, which means it is probably from about 1912. It comes with a morocco leather case, and a stylus made of Bakelite with a metal tip.
It has a 7-digit register on an axle inside the top of the machine. This is the most common size, but there was a more expensive 9-digit version as well. Each wheel is connected via a chain belt to a wheel on an axle at the bottom. On the front there are vertical slots that give access to these chains, and which have the digits 1 to 9 printed alongside. You can insert a stylus into the link of a chain next to a digit, and pull it all the way down to the bottom of the slot. This adds the chosen digit to that digit in the register, and the register will automatically carry when a digit exceeds 9.
There is a knob at the bottom right, and by turning it the register can be reset. The lower axle catches hold of a wheel only at one spot in the wheel's revolution, so as you twist the knob eventually all the wheels begin to move at which point all the digits in the register are the same. Then simply continue turning until all the digits in the register show zero.
The register only turns one way, so subtraction is not possible except through complementary digits. Only late versions of the Golden Gem have the complementary digits shown next to the slots.
I recently acquired another Golden Gem. This one has serial number 400,692 so it was made much later than my other one, though it is almost identical. The main differences are that it has a single bracket for a stand instead of two separate legs, and that there is no text engraved on the side next to the serial number. It comes in a nice presentation box. Presumably the plastic stylus is not original.
---
Video
---
History
The Golden Gem was designed by Abraham Isaac Gancher, Nobyoshi H Kodama, and Albert T. Zabriskie in 1902-1906. Gancher set up the Automatic Adding Machine Company to market the machine. At first it was merely called "Gem", and it had a separate stand that it was slid into. Around 1910 a version was made that was set in a wooden box. In 1912 it was renamed the Golden Gem, and it was given foldable legs instead. After that, the changes seem relatively minor. There were other models as well, including larger versions with more digits, optionally with complementary digits shown next to the chains, and also versions with fractions or for feet and inches. The standard 7-digit version is by far the most common.
The Golden Gem was very successful, and from the serial numbers it seems more than 400,000 of them were produced. It is unclear when production ended, but so many were made that it seems likely to have continued through the 1930s and possibly into the 1940s. Note however that the advertising seems to have dried up in the mid 1920s after about 200,000 had been made.
The Automatic Adding Machine Company also produced a tally counter. It was basically the same as the Golden Gem, except it had 5 digits, had shorter chains, and instead of the slots in the front there was a lever on the right that incremented the units digit. Abraham Gancher also designed a version with a printing mechanism, but this was even less successful than the counter.
---
Articles and Advertisements
Here are a few articles about the Golden Gem or Abraham Gancher found on online archives.
Here are some of the adverts for the (Golden) Gem. It is interesting that Gancher changed his initials depending on the magazine or newspaper so as to track which adverts were successful. For example, readers of Out West magazine would write to O.W. Gancher for information about the Gem, while readers of Scientific American wrote to A. F. Gancher.
From these adverts we can construct the following time line:
1906-07: "Gem" Adding Machine on the market. Has metal stand.
1906-08: Clearing wheel added on upper axle.
1906-10: Clearing wheel moved to lower axle.
1907-10: Over 15,000 in use.
1910-04: The 1910 model is built into a wooden box.
1910-05: Over 23,000 in use.
1912-07: Over 30,000 in use. "Golden Gem" with folding legs, pebbled morocco leather case.
1913-02: Over 60,000 in use.
1913-10: Over 80,000 in use.
1914-12: Over 100,000 in use.
1921-09: Single bracket instead of two legs.
1925-02: Over 200,000 in use.
---
Patents
Patent
Filing date
Publish date
Name
Description
US 753,586
04-09-1902
01-03-1904
Nobyoshi H. Kodama
Gem predecessor
See also CA 94,903
US 816,342
19-01-1905
27-03-1906
Nobyoshi H. Kodama, Abraham I. Gancher
Gem with clearing knob on top axle
US 847,759
28-07-1906
19-03-1907
Abraham I. Gancher, Albert T. Zabriskie
Gem final design
See also AT 33,197 B, GB 1907 17,161
US 1,015,307
18-05-1911
31-01-1912
Abraham I. Gancher
Adding machine
US 1,047,199
27-09-1911
17-12-1912
Abraham I. Gancher
Adding and listing machine
US 1,178,227
12-11-1913
04-04-1916
Abraham I. Gancher
Adding, printing, receipting machine
---
Links
---
© Copyright 2016-2020 Jaap Scherphuis, mechcalc a t jaapsch d o t net.