Home /
Hasbro Adding Machine
Hasbro Adding Machine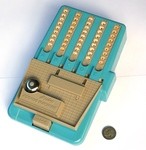 ---
Hasbro Adding Machine
Video
History
Advertisements
Links
---
Hasbro Adding Machine
This is a cheap and simple 5-digit plastic adding machine intended as a children's toy.
It has sliders for the input of digits. The sliders are large so that you can use your finger instead of a stylus. To add a digit to a column, put your finger into the slider hole showing the digit you want, and pull the slider down until your finger hits the bottom. Then relax your finger to let the spring-loaded slider gently move back to its original position. The register has a simple direct carry mechanism.
There is a sliding cover that can hide the totals register, and the idea behind this is that you can try to work out what the answer of your calculation is and then reveal the register to see if you were correct. When you open this cover to reveal the answer, the bell rings.
There is a very primitive clearing mechanism. If you hold down the Clear button and then pull down on the input sliders, they will stop moving when the number hits zero. Starting from the right, you can pull down the sliders one by one to set each digit to zero in turn. This of course causes a carry each time, so will fail if the digit to its left is 0 because that digit is also blocked from being incremented to 1. It also fails for example if the digit to the left is a 9, and the next one after that a 0. For this reason the instructions state that you should change any nines and zeroes to any other value before going through the clearing procedure.
The case is glued shut. I had to open mine to loosen the wheels which were stuck to the axle by gummed up oil. Thankfully the glue gave way easily.
---
Video
Below is a video I made that demonstrates the Hasbro Adding Machine.
---
History
This adding machine was made by Hasbro (Hassenfeld Bros., Central Falls, Rhode Island) and seems to have been first sold in late 1960, and was on the market until at least the end of 1961. It is unclear how much longer after that it was in the shops, as I have been unable to find any later ads for the machine. Unfortunately I have not found any patents related to this adder, so I don't know who designed it.
---
Advertisements
---
Links
Rechnerlexikon has a page for the Hasbro Adding Machine.
UPNA Museo Ciencia has a Hasbro Adding Machine.
Computer History Museum has a Hasbro Adding Machine.
Chris Staecker's YouTube Channel has a video of Hasbro Adding Machine.
---
© Copyright 2022 Jaap Scherphuis, mechcalc a t jaapsch d o t net.