Home /
Kuhrt
Kuhrt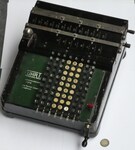 ---
Kuhrt A2
Video
History
Models
Advertisements and Articles
Patents
Links
---
Kuhrt A2
The Kuhrt A2 is a large calculator with a full keyboard, made between 1924 and 1927. It has 8 columns of keys with an input display register above it. The carriage has an 13-digit output register and an 8-digit counter. The crank is a the front right, and is turned clockwise for addition and anti-clockwise for subtraction. There are two small levers on the right of the carriage with which the main register and counter are cleared. The small red lever to the right of the keyboard can be pulled forward to clear the keyboard. It can be shifted to the right for addition / subtraction, as then every turn of the crank automatically clears the keyboard. If the lever is shifted left, then the keyboard is not cleared and this is used for multiplication or division.
The Kuhrt machine uses a unique pinwheel mechanism. There is a pinwheel behind each of the register's number wheels, but whereas the standard Odhner pinwheel has pins that extend and retract, the pinwheels in this machine shift sideways in order to interact with the number wheel.
Pressing a key places a cam in the right position to deflect the appropriate number of pins to the left. The deflected/activated pins remain in position for about half a rotation of the pinwheel, during which time they advance the associated number wheel. As the wheel rotates further, the deflected pins are reset, while a separate springloaded pin handles any carry operation. Those carry pins work in the same way as on an Odhner pinwheel machine, and are arranged similarly in a helical shape so that carries are performed from right to left in the register.
The serial number of this machine is 159, which can be found on the rear of the carriage when it is shifted right, and on a few internal parts of the machine.
---
Video
---
History
In about 1919 Ernst Kuhrt invented a new calculator which was fully automatic and had a printing mechanism. To manufacture this machine he eventually turned to Wilhelm Morell AG in Leipzig.
Wilhelm Morell (full name Paul Richard Wilhelm Morell) had made a name for himself as a manufacturer of tachometers and speedometers. These had become widely used in cars and planes, but also in other machinery. In July 1921 his company became an Aktiengesellschaft, a public limited company. It seems that in 1923 the company was beginning to transform itself to making calculators, and in 1924 they first exhibited at the Leipzig spring fair. This was probably the Kuhrt US, the fully automatic printing calculator, but soon enough they also had simpler and cheaper models A and AB available.
The calculators were manufactured by Deutsche Rechenmaschinen Werke AG. This was probably the new name of Wilhelm Morell AG, though it may be a daughter company. My machine also has the name Wales Adding Machine Co, Schaffhouse on the keyboard plate, which is a Swiss company that was founded in 1924 to import and distribute adding machines by Wales as well as other manufacturers. It seems that the Kuhrt machines were commercially not very successful. Despite investment from Wales, the company only lasted a few years. In 1927 it was liquidated, and Grimme Natalis (Brunsviga) bought the intellectual property. Brunsviga did not continue production, and probably only bought it in order to keep it out of the hands of competitors.
---
Models
It seems that only about 2500 machines were made in total of the three main models, and in the table below I have included all machines that I have found online.
Model
Description
A
Base model; manual or electric
Variant
Capacity
Known serial numbers
A2
8×8×13
159, 654, 1561, 2527, unknown
A3
8×8×16
1790
A4
10×10×13
A5
10×10×16
1584, 1923, unknown
Model
Description
AB
Like model A but with back transfer; manual or electric
Variant
Capacity
Known serial numbers
AB2
8×8×13
1924
AB3
8×8×16
1721, 1790
AB4
10×10×13
AB5
10×10×16
Model
Description
US
Very large capacity electric machine with automatic direct multiplication, automatic division, memory register, back transfer, printing, negative totals.
Variant
Capacity
Known serial numbers
US
16×10×18
9
---
Advertisements and Articles
Here are a few items related to Wilhelm Morell, up to the point the company started making the Kuhrt calculator.
These items relate directly to the Kuhrt calculator, and includes the extensive entry in Ernst Martin's Die Rechenmaschinen.
These last items show the decline of the company and its liquidation.
---
Patents
Patent
Filing date
Publish date
Name
Description
DE 344,259
14-09-1919
18-11-1921
Wilhelm Morell AG; Ernst Kuhrt
Calculator
See also: AT 90,436 B, CH 96,493, FR 523,565, GB 150,970, US 1,792,644.
DE 344,260
14-09-1919
18-11-1921
Ernst Kuhrt
Key locking and input display
DE 355,199
13-09-1920
23-06-1922
Ernst Kuhrt
Printing mechanism
See also: CH 96,494 GB 175,581 US 1,776,076
DE 378,077
18-03-1922
05-07-1923
Wilhelm Morell AG; Ernst Kuhrt
Multiple registers
See also: AT 94,774 B CH 102,571 US 1,798,329
DE 400,159
12-08-1922
02-08-1924
Wilhelm Morell AG
Carry mechanism
---
Links
---
© Copyright 2023 Jaap Scherphuis, mechcalc a t jaapsch d o t net.