Home /
Business, Master, Sirius
The Business, Master, and Sirius adding machines
---
The Business adding machine
The Master adding machine
Video
The Sirius adding machine
Video
History
Patents
Links
---
The Business adding machine
The Business adder is a troncet adder that was made in the 1920s. It has 9 sliders that you can move with a stylus. The front plate features a logo showing a portrait of a man in a uniform cap, and there is also the text "Machine a Calculer, Roule sur Billes". The latter literally means rolling on balls, and it is indeed true that the sliders rest on a ball bearing at each end. The front and back plates of the case are made of metal, but the sides are of wood.
In later models the wood was replaced by a metal frame. They were also often mounted on a slanted base for use on a desk. From 1931 those desk models would use a lever or crank on the side to clear the register instead of the bar at the top.
The instruction leaflet says that this is the 1927 model, and it comes in a cardboard folding case with imitation leather print. It does not have the original stylus.
Les machine à calculer Business (PDF, 2.71 MB or archive.org)
Cyrille A. Hankard
1927
16 page leaflet
90mm × 134mm
This is the small instruction leaflet. It has more pages extolling the virtues and origins of the adder than explaining its usage.
---
The Master adding machine
The Master adding machine is a troncet adder in a bulky cast-metal casing. It was made in the second half of the 1930s in many somewhat ludicrous variants. Some features of the Master are:
A crank on the right hand side to clear the register. You have to do several anti-clockwise turns and then several clockwise turns. A more expensive option was a lever which through a gear would accomplish the same thing with a single movement. Unfortunately the clearing mechanism is broken on my machine.
A "multiscriptor", a pair of paper strips at the front for notating results. On the right is an extension with a lever and a turning knob that are used to advance the strips. There should be a similar extension on the left which is a container for the rolls of paper. That container can be detached for refilling, but has gone missing on my machine. The Master was also available without the multiscriptor.
Built-in stylus pegs. This seems to be a rare optional feature. These pegs are used instead of a loose stylus. You can slide a peg along its track to the correct digit, push it down to engage with the mechanism, and then slide it up or down while keeping it pushed in. This is not as easy to use as a stylus, and thankfully the system can be removed by undoing two screws. Note that the case does still have a slot at the front for storing a stylus.
Indicator lights. Electric versions of the Master were made, powered by battery or by plugging into the mains. They would have two lights, one in each of the circular openings at the top. As soon as you placed your stylus into one of the sliders, the red or the green light would switch on to indicate whether you had to move the stylus up or down. The stylus was attached by a wire so that it would close a circuit when inserted.
---
Video
Here is a video where I demonstrate the Business and Master adding machines.
---
The Sirius adding machine
The Sirius adding machine is a troncet adder with a heavy cast metal base. It was intended for desk use. It has a crank handle on the right for clearing the register - turn it a few times anti-clockwise until all the sliders are on zero, and then turn it clockwise as far as it will go to release the sliders for the next calculation. It was made in the second half of the 1930s.
This version of the Sirius comes with a "Scriptor", two metal drum attachments that allow you to have a scroll of paper for yotting down intermediate results or multiplication factors. There is also a rectangular plate that can be attached which covers some of the input sliders, and which can be shifted to the right digit by digit as you perform a multiplication. These attachments do not work well, or at all, and are mostly useless.
It came with two instruction booklets, one French and one Dutch.
Ik ben de kleine Master (PDF, 2.91 MB or archive.org)
16 page stapled leaflet
104mm × 133mm
This is the small instruction leaflet in Dutch. The first few pages are written in the first person, as if the machine itself is speaking.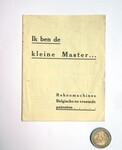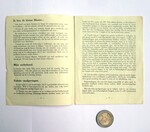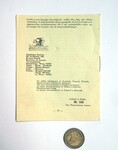 Je suis la petite Master (PDF, 3.27 MB or archive.org)
16 page stapled leaflet
106mm × 141mm
This is the small instruction leaflet in French. The first few pages are written in the first person, as if the machine itself is speaking.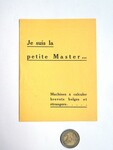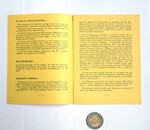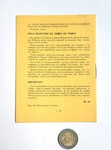 Uw zaken zullen buitengewoon eenvoudig worden (PDF, 1.94 MB or archive.org)
8 page leaflet
90mm × 140mm
1937
Donnez deux sous par jour et faites vos calculs à l'électricité (PDF, 2.60 MB or archive.org)
8 page leaflet
119mm × 150mm
The other papers include the original receipt, a guarantee certificate, some ads, and testimonials, and a special offer.
---
Video
Here is a video where I show the Sirius adding machine and all the documents that came with it.
---
History
The Business, Sirius and Master adders were very likely all made by Cyrille Alphonse Ghislain Hankard, who was born 12-03-1903 in Temploux, Belgium. In the 1920s he set up his business in Liège, with the production in Herstal the adjacent industrial town. Later there was also an office address in Brussels. Very little is known about this company, which called itself either Business or Master. The company made basic slide adders, and many quaint variations on them, which were sold under many different names such as Business, Belga Novic, Sirius, All, Efficience, Master, and DA 702.
In the 1940s Cyrille Hankard wrote many books about running your own business, with titles such as "A hundred different ways of being your own boss", "Cent situations indépendantes à domicile", "Je débute, progresse et réussis dans une affaire indépendante", "Une de ces cent affaires nouvelles fera votre fortune", "Les clefs du succès en publicité et vente par correspondance" etc. It is quite possible that many of these were minor variations of the same text. These books were self-published under the pseudonym C. A. Kardan, which is his surname with the syllables swapped and the silent H dropped.
---
Patents
I have not found any patents for these adding machines, probably because the early Belgian patents have not been digitised. I only found a French patent by Hankard for a printing mechanism.
| Patent | Filing date | Priority date | Name | Description |
| --- | --- | --- | --- | --- |
| FR 663,087 | 27-10-1928 | 16-08-1929 | Cyrille Alphonse Hankard | Printing mechanism |
---
Links
---
© Copyright 2021 Jaap Scherphuis, mechcalc a t jaapsch d o t net.