Home /
Micro-Tally
The Micro-Tally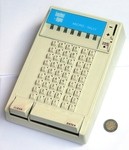 ---
The Micro-Tally
Video
Advertisements and articles
Patents
Links
---
The Micro-Tally
The Micro-Tally by Technidyne Inc. is a full keyboard adding machine. It has a plastic case and plastic keys, though its internal mechanism is metal. The keyboard has 6 columns and the register, located at the rear, has 7 digits. The distance between the second and third register digit from the right is slightly larger than between the others, indicating the decimal point. The controls are as follows:
| | |
| --- | --- |
| Keyboard | Used for entering a number. There are no zero keys. The number is immediately added to the register. |
| Enter | Finalize the addition (or subtraction) of the entered number, and clear the keyboard. |
| Clear | Cancel the addition (or subtraction) of the entered number, and clear the keyboard. |
| +/- | Switch for choosing between addition and subtraction operations. Register is not readable while in subtraction mode. |
| Clear Dials | Push down and rotate this wheel to clear the register. Not possible in subtraction mode, and keyboard should be clear. |
It comes with its original box and an instruction leaflet. The box also has some simple instructions printed on it.
The machine is very cheaply constructed. The buttons and the upper case form a single piece of plastic. The keyboard mechanism is made of extremely thin metal sheet strips, so much so that it seems remarkable that it works at all.
The Micro-Tally was made by the Technidyne Inc., a company based in Livermore, California. The company was founded on 22nd July 1968, and apparently had no products other than the Micro-Tally. They registered the Micro-Tally trademark on 24th November 1969, claiming the mark was first used a month earlier. The machine was on the market for a little over a year, from mid-1970 to late 1971, although the company ceased trading on 21st April 1971 according to California records. There are and were several other unrelated companies with Technidyne in the name, so it is difficult to find out more details.
---
Video
Here is a video where I demonstrate the Micro-Tally.
---
Advertisements and articles
I found several advertisements for the Micro-Tally. At first it was advertised only in California, but later also in New York and Texas. Most of these ads are from department stores or office supply stores.
Here are a few snippets related to the registration of the Micro-Tally trademark.
---
Patents
It says patent pending on the bottom of the machine, but I have been unable to find the patent. It is possible that the application was not granted, or that Technidyne stopped trading and cancelled the application before it could be granted.
---
Links
---
© Copyright 2021 Jaap Scherphuis, mechcalc a t jaapsch d o t net.