Home /
Peter Pan Adding Machine
Peter Pan Adding Machine / Wolverine Adding Machine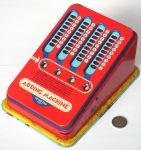 ---
Peter Pan Adding Machine
Video
History
Articles and Advertisements
Patents
Links
---
Peter Pan Adding Machine
This is a cheap and simple 4-digit adding machine intended as a children's toy. It is made of tin sheet metal, slotted together with folded tabs, just like many other tin toys of the time. It has sliders for the input of digits. The sliders are large so that you can use your finger instead of a stylus. To add a digit to a column, put your finger into the slider hole next to the digit you want, and pull the slider down until your finger hits the bottom. When you then release the slider it springs back up, not unlike the Rapid Computer. It has a simple direct carry mechanism.
There is no clearing mechanism. To zero the register, work from right to left, adding whatever needed to set that number wheel to zero. There is no user manual, as the instructions are simply printed on the front of the machine:
Place index finger in slide hole alongside number to be added :
press on slide and pull down to bottom. Do not operate slides
with a jerky or too rapid motion . . . Smooth operation assures
accuracy and efficiency. To set machine to zero — begin from
the right making additions in each column so that the figure "0"
will appear in each register.
This machine was made in England in the 1950s by Peter Pan Regd.. It has no serial number.
---
Video
Below is a video I made that demonstrates the Peter Pan Adding Machine.
---
History
The mechanism was invented by Linus J. Ritz of Pittsburgh, and he filed a patent for it in 1939. That patent was assigned to the Wolverine Supply and Manufacturing Company. An early version of this machine was sold by Sears, but later it was sold under their own brand as the Wolverine Adding Machine. The face of the machine was usually painted red, though sometimes black or blue, and it generally has a red body on a light blue base, or blue body on a red base. There were some rare yellow ones made as well.
The Wolverine Supply and Manufacturing Company was founded in 1903 by Benjamin Franklin Bain in Pittsburgh, Pennsylvania, and it made and repaired tools and dies. He named it after the mascot of his alma mater, the University of Michigan. They made tools for the Sand Toy Company, a company which made gravity powered sand toys, and when that company went bust they bought their toy designs. Soon Wolverine made those toys and developed many more, often using the "Sandy Andy" brand. They also began to make toys intended for girls, mostly miniature housekeeping items, like a kitchen (stove, refridgerator, sink) or ironing board. In the 1950s they added more educational toys, like the Adding Machine, and the "See and Add" which is a kind of slot machine that displays random sums with their answers. In 1962 they changed their name to the Wolverine Toy Company, and were bought by Spang Industries in 1968. All the toys they made have become highly collectible.
The Peter Pan Adding Machine was a licensed copy of the Wolverine. It seems that these were all made with the same colour scheme - red with blue sliders - though the colour of the base varies. The company, Peter Pan Regd., is a bit of a mystery, though it seems to have been active in the 1950s. Some other items I've found made by them were a Neapolitan Automatic Chocolate Machine (a tinplate money bank that releases a chocolate when a coin is put in), Playtime Compendium of 11 Games (collection of board games, mostly of cardboard), and Disneyland Playtime (plastic heads, legs and arms, to be stuck in a potato like a Mr. Potatohead), a version of the Magic 8-ball, and they were also licensed to make versions of Wolverine's "See and Spell". It seems that Peter Pan Regd. is not related in any way to Peter Pan Playthings that was founded in 1963.
---
Articles and Advertisements
I have not found any articles or advertisements about Peter Pan Regd. toys, but there were a few about Wolverine and its toys.
---
Patents
Benjamin F. Bain registered many patents. Before he founded Wolverine he patented an internal combustion engine (US 716,615). One of the first products that Wolverine made was a jar holder (US 742,238, US 970,365), but soon after all the patents were for tin toys, like the Sandy Andy Crane (US 1,151,919, GB 1915/04797) the Cyclone Windmill Pump (US 1,217,885), and the See and Add (US 2,310,898).
There is only one patent related to the Adding Machine.
| Patent | Filing date | Published date | Name | Description |
| --- | --- | --- | --- | --- |
| US 2,243,884 | 07-12-1939 | 03-06-1941 | Linus J. Ritz, Wolverine Supply and Manufacturing Company | Wolverine Adding Machine |
---
Links
---
© Copyright 2019 Jaap Scherphuis, mechcalc a t jaapsch d o t net.