Home /
Purse Adding Machine
Purse Adding Machine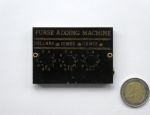 ---
The Purse Adding Machine
Video
Patents
---
The Purse Adding Machine
The Purse Adding Machine is a tiny dial adder. Its dimensions are about 5cm by 7cm. It has 3 dials, marked Dollars, Dimes, and Cents. Each has a narrow circular slot showing 10 holes around the edge of the dial, and you can enter numbers by putting a stylus into such a hole and turning the dial clockwise until the stylus hits the end of the slot. There are three small windows to the top-right of the dials, and they each display a single digit of the register. The stylus is a piece of thick wire, and this is stored in a small hole on the right hand side of the adder.
It is completely made of metal, riveted together. The mechanism is extremely similar to the Lightning Calculator. Each dial is a gear connected to a number wheel to its top right. That number wheel also acts as an intermediate wheel for transferring the carry. One of the teeth of the dial is longer, long enough to push the number wheel of the next digit one step.
There is no maker's mark or branding anywhere, and I have not been able to find any information regarding this adder. It was made in the USA, presumably after 1921, when the Lightning calculator which was first produced, but before the 1950s, when cheap plastics became more common. I think the most likely date is late 1920s, early 1930s.
---
Purse Adding Machine video
Here is a video where I demonstrate my Purse Adding Machine.
---
Patents
The only relevant patent is the one for the Lightning Calculator by Russell Wallace Hook.
| Patent | Filing date | Publish date | Name | Description |
| --- | --- | --- | --- | --- |
| US 1,574,249 | 17-02-1921 | 23-02-1926 | Russell Wallace Hook | Lightning Calculator |
---
© Copyright 2020 Jaap Scherphuis, mechcalc a t jaapsch d o t net.