Home /
Quixsum
The Quixsum Fractional Adding Machine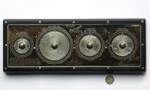 ---
The Quixsum Fractional Adding Machine
Video
History
Advertisements and articles
Patents
Links
---
The Quixsum Fractional Adding Machine
The Quixsum is a dial adder especially made for adding length measurements in feet, inches, and fractions of an inch. It is very large, made of metal, with a black finish and finely decorated with classy gold writing. It has four large dials, with small holes near the edge into which a fine stylus can be inserted. A dial is turned until the movement of the stylus is stopped by a small tab.
The rightmost dial is for 32nds of an inch, so has 32 stylus holes. The next dial is for inches, and has 48 holes for adding up to 47 inches. The next dial counts feet, and has an incredible 100 holes, and the leftmost dial has 48 holes and counts hundreds of feet. The machine has an automatic carry mechanism, so for example the feet dial is advanced every time the inches dial moves to a multiple of 12 inches.
The serial number is 2527, visible in the top right corner. Removing the frame involves unscrewing 12 screws, the front plate has another 3 screws, and finally there is another screw in each dial. I did not bother to remove the 12 screws of the bottom cover plate. The carry mechanism uses stored energy, whereby turning a dial causes a cam wheel to lift up a springloaded carry arm, which the cam wheel then drops at the moment of carry. The carry arm has a pawl that pushes the next wheel forward by one tooth.
---
Video
Here is a video where I demonstrate the Quixsum.
---
History
The Quixsum was invented by Joseph F. Leitner. He was a well-respected architect working mostly in North and South Carolina. In 1915 he invented a fractional adding machine, and even set up the Fractional Adding Machine Company in Richmond VA, but it is not clear if anything was manufactured, and if so, how similar this was to the eventual Quixsum.
The patent for Quixsum was filed in August 1923. The first version of the adder was manufactured by the Fulton Manufacturing Company of Atlanta, GA. It is difficult to find any information about that company because there are many companies of that name. It is also unclear how involved Leitner was, and it is possible that Leitner merely licensed the manufacturing rights.
The Precision Adding Machine Company was incorporated in Charlotte, North Carolina, in July 1923. The founders were Thomas B. Whitted, Theodore C. Heyward, and Miss M. A. Goodman. Whitted was a contract engineer who had been involved with a large variety of engineering projects, such as installing a central vacuum system in a hotel, a streetcar line, and the lake Mattamuskeet pumping station. Heyward was his assistant.
By the time the Quixsum patent was granted in June 1924, it had been assigned to the Precision Adding Machine company, and they were manufacturing it. In September of that year the company name was changed to the Precision Corporation. I have not found any ads or articles after 1924 so it is unclear how long the Quixsum was in production, but given its rarity now it was not very long.
There are three models. The first two models have a knob that helps with resetting the dials. When the knob is moved, the dials are prevented from moving past zero, so they are easily reset by rotating them until they can't move any further. In the table below I have listed all the serial numbers I have found pictures of online.
Model
Manufacturer
Serial numbers
Description
A
Fulton Manufacturing Co., Atlanta GA
????
Green front. Wooden base. Dial sizes 60/100/60/32. Clearing knob above left dials that slides horizontally.
Patent applied for.
INSTRUCTIONS. Place stylus in point on Adding Dial opposite numeral to be added, and turn in direction shown by arrow until it strikes the stop. The correct addition will be shown in red.
B
Precision Adding Machine Co. Inc., Providence RI, Charlotte NC
1584 1609 1690 ????
Black front. Wooden base. Dial sizes 60/100/60/32. Clearing knob above middle that slides vertically.
Patent applied for.
INSTRUCTIONS. Place stylus in Perforation in Dial opposite numeral to be added and turn in direction of arrow until stopped repeat for numeral to be added and total will be correctly indicated. To clear machine move clearing knob toward you and commencing with "fractions", turn dials to the right until they stop. Then release knob.
C
Precision Adding Machine Co. Inc., Providence RI, Charlotte NC
2527 2539 2576 2597 2643 2682 2728 2740 2759 2762 2813 2843 2848
Black front. Metal base. Dial sizes 48/100/48/32. No clearing knob. The Feet dial with 100 holes is larger than in previous models.
Pat June 10 1924. Other patents pending. Foreign patents pending.
INSTRUCTIONS: To clear machine. Begin with "fractions" dial successively bring each dial to zero, with arrow at stop. Always use stylus in a vertical position. To add, place stylus vertically in the hole in dial opposite the numeral to be added. Turn in direction of arrow until stopped. Repeat for each numeral. Total will be indicated in openings to left of dials.
It is likely that the model C serial numbers started at 2500, and that only about 400 were made. It seems that none have the company name Precision Corporation on them, which gives a further indication that production cannot have continued much past 1924.
---
Advertisements and articles
Here are some items I found related to Joseph F. Leitner.
Here are the items I found related to Thomas B. Whitted and the Precision company.
The following items are directly related to the Quixsum. Note that the later adverts write it in mixed case as QuiXsuM.
---
Patents
Joseph F. Leitner invented and patented an ironing board (US 556,191) just a few months after he got married. It was years later during his career as an architect that he invented the QuiXsuM. Joseph Leitner died in 1930, so the 1936 patent for a rosary watch chain (US 2,084,151) is by a different person with the same name.
Patent
Filing date
Priority date
Name
Description
US 1,497,570
25-08-1923
10-06-1924
Joseph F. Leitner / Precision Adding Machine Company
QuiXsuM Adding Machine, model A
US 1,517,125
20-06-1924
25-11-1924
Ralph Clifton Patton / Precision Adding Machine Company
Adjustable carry pawl, model B
See also: CA 251,786.
GB 230,701
15-07-1924
19-03-1925
Precision Adding Machine Company
QuiXsuM for British currency, model A
---
Links
---
© Copyright 2023 Jaap Scherphuis, mechcalc a t jaapsch d o t net.