Home /
Redington Counting Machine
Redington Counting Machine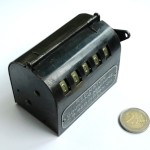 ---
Description
History
Advertisements and Articles
Patents
Links
---
This is a 5-digit counter. It is intended for industrial use, and was often used with printing presses. There were many different attachments available with which it could be connected to almost any industrial machine in order to count how many cycles were done, e.g. how many items were produced. There is a small lever on the right hand side, and pushing it down increments the counter.
The front and back of the covers are hinged at the top with a spring, so they can be flipped up to access the mechanism. There is no clearing mechanism. Resetting is done by hand, following the instructions engraved on the inside of the front cover:
TO SET BACK
IF FIGURE 9 SHOWS ON ANY
WHEEL THROUGH SIGHT OPENING
MOVE WHEEL FORWARD.
BEGINNING WITH LEFT HAND
WHEEL, MOVE EACH WHEEL
FORWARD IN TURN TO FIGURE
NINE, AND PULL LEVER.
---
History
Frank Brown Redington's father was co-founder of the Sanford Manufacturing Company, which made pens and ink. Frank apparently did not want to follow his older brother into that business. After some not so successful ventures he became superintendant at the Zeno Manufacturing company in Chicago. This was a subsidiary of the Rubber Paint Company that his brother-in-law was vice president of. Zeno made chewing gum — not only their own brand but also the gum for William Wrigley Jr. The wrapping and packaging of the chewing gum was done by hand, and this manual process was unable to keep up with the demand for chewing gum that Wrigley was creating. In 1895 Redington invented a gum wrapping machine to overcome this bottleneck. William Wrigley's chewing gum business grew so successful that he bought Zeno in 1911. Redington's wrapping machine was the foundation for Wrigley's chewing gum's success.
Redington meanwhile set up his own company, the F. B. Redington Company in 1897. This company made various wrapping machines, but also had a sideline in machining parts to order. Redington designed the Redington Counting Machine in 1906, and it was used extensively in various industries but especially in the printing industry that the rest of Redington's family were involved in. In 1913 various packaging companies joined forces to form the Package Machinery Co., and Frank Redington became its president.
F. B. Redington Co. continued making and developing wrapping, packing, and labelling machines. Their Counting Machine also remained in production with only minimal changes. Frank Redington retired from the company in 1953, at the age of 86. In about 1961 the company merged with the packaging arm of Crompton & Knowles, but it seems that the counter business was split off as a separate company, Redington Counters Inc. In 2011 Redington Counters became part of Trumeter Technologies.
---
Advertisements and Articles
Here are various advertisements and catalogue listings of this counter that I found in online archives.
Here are a few articles related to Frank Redington and the company.
---
Patents
Frank Redington has several patents to his name, but only one is for the counter, and another for attachments to it. There are many later patents assigned to the company, and those are not listed here.
| Patent | Filing date | Priority date | Name | Description |
| --- | --- | --- | --- | --- |
| US 534,407 | 23-05-1894 | 19-02-1895 | Frank B. Redington, Charles U. Trowbridge | Chewing gum wrapping machine |
| US 715,147 | 29-04-1901 | 02-12-1902 | Frank B. Redington | Seat for a printing press |
| US 900,954 | 27-08-1906 | 13-10-1908 | Frank B. Redington | Counting Machine |
| US 985,448 | 03-03-1910 | 28-02-1911 | Frank B. Redington | Counting Attachment |
| US 1,117,442 | 03-01-1911 | 17-11-1914 | Frank B. Redington, Michael J. Milmoe | Wrapping Machine |
| US 1,133,668 | 22-03-1913 | 30-03-1915 | Frank B. Redington, Michael J. Milmoe | Chewing-Gum Wrapping Machine |
| US 1,158,287 | 22-03-1913 | 26-10-1915 | Frank B. Redington, Michael J. Milmoe | Feeding Mechanism |
---
Links
---
© Copyright 2020 Jaap Scherphuis, mechcalc a t jaapsch d o t net.