Home /
Schubert
Schubert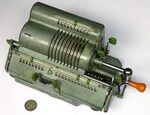 ---
Schubert DRV
Video
History
Models
Manuals
Articles
Patents
Links
---
Schubert DRV
The Schubert DRV is a mechanical calculator with a pinwheel mechanism. It has 10 input levers for entering a 10-digit input, with an input display register above it. It has a carriage on which there is a 13-digit main register and an 8-digit counter register. The counter has a carry mechanism. The counter direction is controlled manually through the switch on the left, though the switch is also set automatically during the first turn of the crank after clearing the counter.
The lever on the left of the carriage resets the counter. The lever on the right resets both the counter and main register but if the small button between the registers is held down when you start then only the main register is reset. The lever on the right side of the body resets the input. Shifting the carriage is done using the buttons on the front of the carriage or with the lever below the main crank on the right hand side.
The serial number is 132,890, which dates the machine to 1958 or 1959.
The calculator is very well designed. The controls for moving the carriage make it feel effortless, because not only does the carriage move smoothly over rollers, pushing a carriage shift button first tensions up a spring, and that energy is used to move the carriage during the end of the button push. The main clearing lever consists of two parts hinged together such that the lever action smooths out the effort. The same is true of the input clearing lever.
The carry mechanism used in the counter is also unique. It has an odometer-style carry mechanism, but it is supplemented by a mechanism on a separate axle which acts on the number wheels from right to left and forces each wheel to align perfectly, taking up any slack that is present in the odometer mechanism.
---
Videos
---
History
Emil Schubert first worked at Triumphator, but in 1911 he co-founded Thaleswerk, Rechenmaschinen-Spezialwerk GmbH with Max Müller. Schubert was an engineer and Müller was a salesman. The company was started in Landau, but moved to Rastatt in 1913 in order to expand its production. In 1933 Müller was forced to leave after accusations of embezzlement, leaving Schubert as the sole director of the company. In the midst of the rise of Naziism it was not long until Schubert too was being forced out for supposedly being unsuitable to lead such a company. He left in 1936, and was unable to take his many patents with him.
It took Emil Schubert about a year to design a new pinwheel machine without violating any of his Thales patents. He then founded his own company in 1938, Schubert & Co KG, still based in Rastatt, and production of his new calculators soon started.
Unfortunately the war had large consequences. In 1942 the company was ordered to start making goods for the war effort under direction of a newly appointed manager. At the end of the war the French occupying forces confiscated much of the machinery and equipment, and Emil spent two years emprisoned in camps for having been an arms manufacturer. Fortunately, by the time Emil returned, his son Lothar Schubert had rebuilt the factory and restarted production. Emil Schubert died in 1952, after which Lothar Schubert continued as company director.
Models
The first models were A and B. They differed only in capacity, where A had only 6 digits of input, B had 10. Variants with back transfer functionality were called AR and BR.
After the war Schubert made models C and D (and CR, DR) which were virtually the same as the models A and B. In 1952 the models D and DR were upgraded to DV and DRV, which added carriage shift controls near the crank so that the machine could be mostly controlled with one hand. Not long after that they discontinued models DV, DR and CR and introduced the CRV. So by 1956 the model range consisted of CRV and DRV, as well as CW and DW (the new names for the plain models C and D). These were in production until the early 1970s.
In the early 1960 Schubert developed a new model, model E. It was similar in working to the Facit machines, with a 10-key keyboard for input, the input register on a moving carriage, and a stationary main register and counter located behind that. The machine had a large plastic case which made it feel cheap, and was a commercial failure.
Name
Years
Capacity
Notes
Schubert A, AR
1939-1942
6×6×10
Schubert B, BR
1939-1942
10×8×13
Schubert C, CR
1946-1955
6×6×10
Like A, AR
Schubert D, DR
1946-1954
10×8×13
Like B, BR
Schubert DV
1952-1955
10×8×13
Schubert DRV
1952-1974
10×8×13
Schubert DW
1955-1972
10×8×13
Like D
Schubert CRV
1956-1972
6×6×11
Schubert CW
1955-1970
6×6×11
Like C
Schubert E
1961-1966
10×8×16
Facit-like
Schubert also sold adding-listing machines, such as JS (manual) and KS (electric), but they were essentially made by Rokli and rebadged as Schubert machines.
---
Manuals
Schubert Rechenmaschinen (PDF, 8.56 MB or archive.org)
Schubert & Co. KG.
1956
24 page booklet
211mm × 148mm
This booklet is the German manual for the Schubert CW, CRV, DW, and DRV. It has no copyright date, and could be from any year between 1956 and about 1970.
---
Articles
I have found no advertisements and very few articles related to Schubert calculators.
---
Patents
There are not so many patents on the Schubert calculators, especially compared to Emil Schubert's patents during his long career at Thales.
| Patent | Filing date | Publish date | Name | Description |
| --- | --- | --- | --- | --- |
| DE 691,140 | 03-04-1938 | 17-05-1940 | Emil Schubert | Clearing lever |
| DE 738,594 | 03-04-1938 | 03-09-1943 | Emil Schubert | Pinwheel |
---
Links
Rechner Lexicon has a page about Schubert, which has links to pages for specific models, including the DRV.
Rechenmaschinen-Illustrated has pictures of most Schubert calculators.
Cris Vande Velde has a model DW, a model DRV, and a page about the model E.
Rechnen Ohne Strom has a model E.
Christian Hamann has a Schubert DRV.
John Wolff has page of various pinwheel calculators, which includes a Schubert DRV.
John Scriven's collection has a page on Schubert calculators, which includes a DRV and a CW (with ADM Teacher branding).
Centre for Computing History has a Schubert DRV with ADM Teacher branding.
Lars Lind Nilsson's collection includes a Schubert DRV.
schlepptops.de describes and shows the Schubert DRV.
---
© Copyright 2021 Jaap Scherphuis, mechcalc a t jaapsch d o t net.