Home /
Scotsman
Scotsman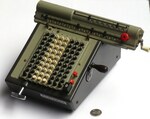 ---
The Scotsman SR1
Video
History and models
Advertisements and articles
Links
---
The Scotsman SR1
The Scotsman SR1 is a rebadged variant of the Monroe model L. It is a hand-driven calculator that uses a split stepped drum mechanism. It has a keyboard with 8 columns of keys allowing for an 8-digit input, a 15-digit main register, and a 7-digit revolution counter.
The main differences with earlier similar versions of the Monroe L are the grey colour scheme, and that the crank handle release latch is on the bottom instead of next to the keyboard. The carriage shift knob and keyboard clearing button are taken from the later restyled version of the model L.
The serial number is B001749. I don't know how many were made. My machine was missing its crank handle, so I borrowed the one from my Monroe model L, which of course fits perfectly.
---
Video
---
History and models
The Calculator Equipment Corporation was founded in New York in 1922, and dealt in used, reconditioned calculators. This included many different brands including Monroe, Friden, Marchant, Felt & Tarrant, Burroughs, Remington Rand. In 1949 they began to specialise in only Monroe machines, and at some point the company became a subsidiary of Monroe. Note however that there has long been a close relationship to Monroe as Jay Randolph Monroe, founder and president of Monroe, was also the president of the Calculator Equipment Corporation at the time of his death in 1937.
In 1958 they first produced the Scotsman machines. These were Monroe machines of an older style of model L which were probably still being manufactured in European factories, while Monroe in the USA had moved on to Monro-matic models. They also produced dictation machines under the brand name Vanguard.
There were three different Scotsman calculator models.
| Model | Capacity | Description |
| --- | --- | --- |
| SR1 | 8×7×15 | Manual |
| SR2 | 8×7×15 | Electric |
| SR3 | 9×9×18 | Manual, automatic division |
There was also a Scotsman 10-key adding-listing machine, which presumably was also a rebadged machine produced in Europe.

It is unclear what became of the company. After 1959 there are no further ads to be found, but the company did receive a patent for a new type of automatic turnstile gate (US 3,386,202, CA 785,506, DE 1,449,223).
---
Advertisements and articles
---
Links
There is almost no record of the Scotsman on other calculator sites.
---
© Copyright 2023 Jaap Scherphuis, mechcalc a t jaapsch d o t net.