Home /
Simex Caroline
Simex Caroline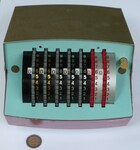 ---
The Simex Caroline adding machine
Video
Advertisements and articles
Patents
Links
---
The Simex Caroline adding machine
The Caroline adding machine was originally made from about 1960 by Simex (Société Industrielle Des Métaux Manufacturés), a company based in Nyon, Switzerland. In the second half of the 1960s a French licensed copy was made by Établissements Vullierme, which was a toy company based in Rumilly. That company later shortened the name to Vulli.
This adding machine uses the same mechanism as the Addipresto / Addical. It has seven coaxial number wheels, with a small window next to each wheel which shows the current digit. The wheels can be moved by hand without the use of a stylus. To add a number, add it one digit at a time by placing your finger on a number wheel next to the digit you want to add, and move your finger down as far as it will go. It has a stored energy carry mechanism so it takes no extra force when a carry occurs. The register is cleared by pushing the button to the right of the wheels.
I have two Caroline adding machines, both made in France. The first has serial number 17802. It was very dirty, so I soaked the casing in water in an attempt to clean it, but this caused a lot of the paint to flake off. It is also missing one of the screws.
The second Caroline adding machine is in better condition, and has serial number 14154.
---
Video
Here is a video where I demonstrate the Simex Caroline adding machine.
---
Advertisements
Here are some advertisements for the original Simex Caroline.
---
Patents
The Caroline was designed by Tabor Arvaï. Its mechanism is virtually identical to that of the Addipresto / Addical, which in turn is very similar to a machine that was patented by Carlo Fossa-Mancini back in 1899. This is probably why there is no patent for the Caroline. Arvaï does have several other patents related to mechanical calculators, and later of sewing machines.
| Patent | Filing date | Published date | Name | Description |
| --- | --- | --- | --- | --- |
| GB 1899/04489 | 01-03-1899 | 01-07-1899 | Carlo Fossa-Mancini | An Improved Adding Apparatus |
---
Links
---
© Copyright 2021 Jaap Scherphuis, mechcalc a t jaapsch d o t net.