Home /
Melitta
Melitta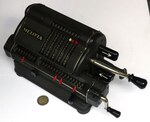 ---
Melitta VII/16
Video
History
Models
Patents
Links
---
Melitta VII/16
This is a pinwheel machine with some interesting design features. It is a further development of the Walther RMKZ, so it has similar specifications. In particular, it has 10 digits of input with a display register, an 8-digit counter register with tens carry mechanism, and 16 digit in the main register. The carriage is spring-loaded to the left, and can be shifted using thumb levers near the the crank.
The input pins are used to set the input number. They move more like sliders, with only a gently curved trajectory, which make them easier to use than the input pins of most other pinwheel machines. The input pins also remain stationary when the crank is turned.
The carriage shift buttons have a distinctive wide button tops that make them very easy to use. The switch for selecting the counter direction is at the rear of the crank cradle, within easy reach, and the current setting is visible in a small window next to the input display which shows a + or - symbol (later versions use a black or red dot). The input pins are not directly connected to the pinwheels, allowing them to remain stationary when the crank is turned. There is a single clearing crank on the carriage, with a little switch with which you can select whether to clear the counter, the main register, or both. For some reason the clearing crank has to be rotated twice. There is also a clearing lever for the input, which uses a bar to push all the input pins to zero, but unlike the Walther the bar itself is internal.
It has serial number 90,701, which puts it nearer the beginning of the production run of this model, presumably 1955 or so.
The carriage can be removed by taking out one screw from under the base, near the left side, which allows you to remove a small part on the carriage rail that acts as a block. The carriage then slides off to the left.
The input pins are connected to the pinwheels only indirectly, via the number wheels of the input display register. This allows them to remain stationary when the crank is turned. As soon as the crank handle is pulled out of its cradle, the input display register shifts to the left, disconnecting from the pinwheels so that the pins and the register are unaffected by the crank rotation.
---
Video
---
History
Melitta pinwheel machines were first made by Mercedes Büromaschinen-Werke in about 1924. Mercedes was based in Zella-Mehlis, which is also where Walther was located. The latter wanted to diversify into calculator production because arms manufacturing was extremely restricted in Germany after the treaty of Versailles. Mercedes decided to hand over the pinwheel manufacturing to Walther in order to concentrate on its successful Mercedes-Euklid range of calculators. From about 1926 Walther made Melitta pinwheel machines for Mercedes to sell, but were also allowed to produce and sell them using their own name. Calculator production continued until about 1938.
Near the end of the second world war the Walther factory was destroyed because of its arms manufacturing. Zella-Mehlis was in the Soviet-occupied zone, and Fritz Walther decided to move to the allied-occipied region to rebuild his company. Other former Walther employees who stayed in Zella-Mehlis rebuilt the calculator production line at August-Bebel-Werk, once again using the Melitta brand name. Under Soviet state control production was consolidated with Fortuna-Werk VEB in the nearby town of Suhl. Before Soviet rule Fortuna had belonged to the arms company J.P. Sauer & Sohn. New calculator models were then developed, completely independently from Walther, and sold mostly in the DDR and other Eastern Bloc countries, though some were exported and sold to West Germany. At some point Fortuna-Werk VEB changed its name to VEB Ernst Thälmann-Werk, named after a communist hero. The company also still made guns, and could continue even when mechanical calculator production collapsed. In 1968 it merged with VEB Fahrzeug und Gerätewerk Simson, which was also based in Suhl and made scooters and motorbikes.
Models
Before the war the Walther and Melitta models used the same model names, such as the RK, RMKZ, and EMKD. It is unclear which of the many Walther models were also produced as Melitta machines. The new production after the war at first used those same names, but soon switched to using Roman numerals to designate name the models.
Name
Years
Description
I & II
1947?-1950
It is not known if there were models I and II. Maybe these would have been identical to the Walther RM and RMK. There was however the model E-I, an electrically driven calculator identical to the EMKD.
III
1947?-1950
Identical to the Walther RMKZ
IV
1950-1955
Restyled, with large carriage shift buttons. With back transfer
V
1950-1955
As IV but without back transfer
VI
1955-1963?
Stationary input pins, internal input clearing bar. Without back transfer
VII
1955-1963?
As VI but with back transfer
After the Roman numeral it has /16 to indicate there are 16 digits in the register, but these models seem to have been produced only with that capacity. There was however a Junior model with only 10 digits produced in the late 1960s or early 1970s.
---
Patents
Included in this list of patents are the original Odhner patent for the pinwheel calculator, some patents by Mercedes, several by Walther, and finally some assigned to Ernst Thälmann VEB.
| Patent | Filing date | Publish date | Name | Description |
| --- | --- | --- | --- | --- |
| US 209,416 | 13-07-1878 | 29-10-1878 | Willgodt Odhner | Pinwheel calculator |
| DE 422,443 | 05-08-1924 | 01-12-1925 | Firma Mercedes Büromaschinen und Waffen-Werke | Carriage shifting mechanism |
| DE 422,514 | 14-06-1925 | 02-12-1925 | Firma Mercedes Büromaschinen und Waffen-Werke | Keyboard input |
| DE 480,805 | 05-11-1926 | 18-07-1929 | Carl Walther Waffenfabrik | Electric drive |
| DE 545,533 | 10-12-1929 | 02-03-1932 | Carl Walther Waffenfabrik | Subtraction switch |
| DE 621,316 | 13-10-1934 | 05-11-1935 | Carl Walther Waffenfabrik | Back transfer mechanism |
| DE 925,798 | 01-09-1951 | 31-03-1955 | Erich von Nordheim; Hugo Kämmel; Ernst Thälmann VEB | Register/Counter clearing mechanism |
| DE 929,281 | 04-09-1951 | 23-06-1955 | Hugo Kämmel; Ernst Thälmann VEB | Back transfer mechanism |
---
Links
---
© Copyright 2021 Jaap Scherphuis, mechcalc a t jaapsch d o t net.