Home /
Multo
Multo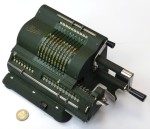 ---
Multo model 3
Video
History
Models
Manuals
Paraphernalia
Advertisements
Patents
Links
---
Multo model 3
The Multo model 3 is a pinwheel machine with an input display register, but without back transfer and no carry mechanism in the counter register.
It has all its controls on the right hand side so that it can be operated with only one hand, something that other Swedish pinwheel calculators did not yet do. Other distinguishing features are the input pins which are coloured in groups alternating red and silver, and the black button on the front that shifts the carriage fully to the left by a spring.
It has serial number 3-7632. It was made somewhere between 1949 and 1953 because the carriage release button is on the front. On later versions the button is located on the crank rest.
---
Video
A short demonstration of the machine.
---
History
Aktiebolaget Addo was founded in Malmö in 1918 by Hugo Agrell. He had been a salesman, mostly of American and German calculators. When the first world war made the import of these machines more difficult, he had the idea to make Swedish adding machines. His cousin Oscar Prinz was a mechanical engineer, and together they started the Addo company. At first they made machines similar to the Comptator, but then improved on it and added a printing mechanism. From about 1928 they made full keyboard adding listing machines of their own design, and from about 1935 they made machines with 10-key numeric input, named Addo-X.
In the early 1940s they designed a pinwheel calculator. As this was a full calculator instead of an adding machine, it was branded Multo instead of Addo. A separate daughter company was set up, and production commenced in 1949 in Örkelljunga, a village 50 miles North of Malmö.
In 1966 the Addo and Multo were bought by Facit-Odhner. The Multo factory was closed, and to cater for their customers some Odhner models were rebranded as Multo machines. Facit was slow to merge with Addo, so the two production lines ran simutaneously for a while, essentially competing with each other. This became more problematic when cheap electronics rapidly changed the market for calculators. Facit was unable to adapt quickly enough, and in 1970 was sold off to Electrolux.
Models
Multo made several versions of their pinwheel calculator.
Input Display
|
Back Transfer
|
|
Carry in counter
|
|
|
Model
Years
|
|
|
Notes
03
1949-1966?
N
N
N
At first the case had green crinkle paint, with the logo painted on. The carriage return button was on the front of the base. In about 1952 or 1953 that button was moved to underneath the crank shaft. By 1955 the Multo logo was placed on a metal plaque instead of painted, and the paint was changed to a grey colour.
3
1949-1966
Y
N
N
13
1949-1966
Y
Y
N
103
1949-1966
Y
N
Y
113
1949-1966
Y
Y
Y
15
1966-1970
N
Y
Y
Rebadged Odhner 229
115
1966-1970
Y
Y
Y
Rebadged Odhner 239
Apparently a model 23 was announced as a replacement for model 13, but it seems not to have materialised.
---
Manuals
Multo Instructies voor de Multo Rekenmachine (PDF, 3.70 MB or archive.org)
A.B. Addo
1953?
8 page folded leaflet
149mm × 210mm
This is the Dutch instruction leaflet for the Multo models 3, 13, 103, and 113. It has no copyright date.
---
Paraphernalia
Multo advertising leaflet
A.B. Addo
1953?
Folded leaflet
8mm × 145mm
This small folded leaflet is in Dutch and advertises the Multo models 3, 13, 103, and 113.
---
Advertisements
Here are various ads for Multo calculators.
---
Patents
Here are some of the patents or the Multo.
Patent
Filing date
Publish date
Name
Description
CH 258,351
16-07-1947
02-05-1949
Aktiebolaget Addo
Clearing selection switch
See also: US 2,521,799
CH 258,352
16-06-1947
02-05-1949
Aktiebolaget Addo
Counter carry mechanism
CH 258,887
16-06-1947
01-06-1949
Aktiebolaget Addo
Calculator
---
Links
---
© Copyright 2022 Jaap Scherphuis, mechcalc a t jaapsch d o t net.