Home /
Original-Odhner
Original-Odhner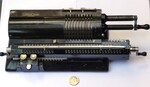 ---
Original-Odhner, model 24
Videos
History
Models
Manuals
Paraphernalia
Articles and Advertisements
Patents
Links
---
Original-Odhner, model 24
The Original-Odhner 24 is a mechanical calculator with a pinwheel mechanism. It has 10 input levers for entering a 10-digit input. It has a carriage on which there is a main register with a large capacity of 20 digits, and a counter register with 11 digits. The counter has a carry mechanism. The input can be cleared by pushing a botton on the right which closes the input lever slots, after which you can turn the crank clockwise as far as it will go which causes the input pins to be pushed up, and then returning the crank to its resting position.
The choice of whether to increment or decrement the counter is selected automatically. After the counter is cleared, the first operation of the crank will increment the counter regardless of whether it is a subtraction or an addition, and this counter direction is then locked in for subsequent operations. The machine also has a back transfer mechanism, meaning that you can copy the value in the main register back into the input. If the input is clear, you can press the back transfer button on the right hand side of the carriage, and then clearing the main register performs the transfer.
This model does not have an input display register, but the model 25 does and is otherwise identical to this model 24.
The serial number is 24-244756, which dates the machine to about 1947.
---
Videos
The first video shows how to use the machine, while the second describes the mechanism.
---
History
Willgodt Theophil Odhner created his first working prototype pinwheel calculator in 1875. More machines were hand-built over the next few years, but mass production only started in 1890 from his workshop in Saint Petersburg. As production expanded, he licensed Grimme Natalis & Co in Germany to produce them as well, and they sold them under the brand name Brunsviga from about 1892.
Willgodt died in 1905, and his son Alexander took over the business. The early machines were called Odhner's Arithmometer, but from about 1907 the name Original Odhner began being used in order to differentiate them from competitors. After the Russian revolution the company was nationalised, and the production machinery transported to Moscow. Alexander Odhner moved to Gothenburg in Sweden where the company was rebuilt from scratch as Aktiebogalet Original-Odhner. After a few years Russia produced their own Original-Odhner machines with the machinery they confiscated, though in 1928 the machines were rebranded as Felix machines.
Soon after the Original-Odhner company was set up in Sweden, Alexander Odhner died. The leadership of the company changed several times, and in 1923 even fell into the hands of the Scandinavian Bank, who owned it for a decade. Hans Herlitz, the previous director, managed to gather a consortium of people to buy it back from the bank in 1934. Despite all these tumultous changes, the company managed to develop and expand the range of calculator models. From 1931 they started producing adding-listing machines too.
Herlitz died in 1942, after which the company was taken over by Åtvidabergs Industrier who also owned Facit. When the Facit machines were restyled by Sigvard Bernadotte to have a more modern look, the same was done for the Odhner machines. By 1973 the market for mechanical calculators had collapsed, and the companies assets were bought by Electrolux.
Models
The Odhner pinwheel machines made in Russia came in three main types - A (13 digits), B (15 digits), and C (18 digits) and were called Odhner Arithmometers. They were gradually improved over the years, for example the crank was lengthened so that it was easy to turn even when the carriage was shifted to the right.
When production started in Sweden, it was first called the Arithmos, of which five types were produced. There was also the Lusid, a model that could be used for British currency (the consonants in the name Lusid mean L for the £, s for Shillings, and d was commonly used for pence). After that, each type was given an official model number, starting with 6. The table below lists these. The information was mostly gathered from Rechner Lexicon. The options column in the table uses the following letters:
C = Carry mechanism in the counter
I = Input display register
B = Back transfer mechanism.
Name
Years
Capacity
Options
Notes
Odhner Arithmos
1919-1922
9×8×13
Types 1 to 5
Odhner 6
1922-1929
10×8×13
Quick clearing mechanism
Odhner 7
1923-1947
10×8×13
Odhner 8
1923-1928
10×8×13
C
Early +/- switch
Odhner 9a
1922-1927
5×5×9
Odhner 9b
1929-1947
10×8×13
C
Odhner 10
1924-1950
10×15×10
For British currency, like the previous Odhner Lusid
Odhner 11
1936-1951
10×11×20
C
Odhner 12
1925-1930
10×8×13
I
Quick clearing mechanism
Odhner 13
1924-1935
10×11×20
C
+/- switch
Odhner 14
1925-1930
10×8×13
I
Odhner 16
1925-1939
10×8×13
CI
+/- switch
Odhner 18
1925-1930
10×10×19
I
Odhner 19
1922-1930
10×10×19
Odhner 20
1925-1930
10×11×20
CI
+/- switch
Odhner 21
1936-1951
10×11×20
Odhner 22
1936-1947
10×8×13
I
Odhner 23
1936-1947
10×8×13
CI
One-handed clearing
Odhner 24
1940-1948
10×11×20
CB
Odhner 25
1938-1951
10×11×20
CIB
Odhner 27
1938-1947
10×8×13
B
Odhner 29
1938-1947
10×8×13
CB
Odhner 30
1930-1947
10×8×13
Quick clearing crank
Odhner 31
1931-1936
10×8×13
C
One-handed clearing
Odhner 32
1932-1936
10×11×20
Quick clearing crank
Odhner 33
1933-1936
10×11×20
C
One-handed clearing
Odhner 35
1939-1947
8×8×13+13
I
Double registers, One-handed clearing
Odhner 37
1939-1950
10×8×13
IB
Odhner 39
1939-1950
10×8×13
CIB
The models that were still in production were restyled, and their model numbers increased by 100.
Odhner 107
1948-1954
10×8×13
Odhner 125
1952-1956
10×11×20
CIB
Odhner 127
1948-1954
10×8×13
B
Odhner 129
1949-1954
10×8×13
CB
Odhner 135
19??-19??
8×8×13+13
C
Double registers
Odhner 137
1951-19??
10×8×13
IB
Odhner 139
1952-1954
10×8×13
CIB
A more thorough restyling was done by Sigvard Bernadotte, and again 100 was added to the model numbers.
Odhner 207
1955-1969
10×8×13
Odhner 227
1955-1969
10×8×13
B
Odhner 229
1955-1969
10×8×13
CB
Also available in Braille for the blind
Odhner 237
1955-1969
10×8×13
IB
Odhner 239
1955-1969
10×8×13
CIB
Odhner 1048
1969-1971
10×8×13
CB
Also available in Braille for the blind
Odhner 1049
1969-1971
10×8×13
CIB
The many adding-listing machine models are not listed here.
---
Manuals
Original-Odhner arbeitet für Sie! (PDF, 3.42 MB or archive.org)
Anleitung für das Rechnen auf der neuen, formgestalteten Original-Odhner
AB Original-Odhner
1956
20 page booklet
127mm × 127mm
This small booklet is the German manual for the Original-Odhner 227. It has no copyright date but on the back it says it was printed in Göteborg in 1956.
Odhner - Eine Addiermaschine die begeistert (PDF, 1.93 MB or archive.org)
AB Original-Odhner
1959?
12 page booklet
127mm × 127mm
This small booklet is the German manual for the Odhner adding listing machines. It has no copyright date but the illustrations feature model X-11-C-8 or X-11-C-9, so it is from 1959 or later.
---
Paraphernalia
Original-Odhner pocket knife
This pocket knife is nicely decorated with mostly black enamel and gold-coloured designs. On one side it says "Aktiebogalet Original-Odhner" with a border formed by two sea serpents. The other side says "Göteborg" underneath the city's coat of arms depicting a rampant lion holding a sword and a shield, and "Strömstad" underneath another coat of arms depicting a sailing ship at sea. The pocket knife should have two folding blades, but one is missing. It also has a nailfile and a screwdriver.
---
Articles and Advertisements
Here are various ads about Odhner machines.
Here is the extensive entry for the Odhner machines in Ernst Martin's 1925 book Die Rechenmaschinen.
Here are various small articles about Odhner machines.
---
Patents
Here are some of the patents by Odhner relating to the pinwheel calculators.
Patent
Filing date
Publish date
Name
Description
DE 7,393
19-11-1878
19-11-1878
Königsberger & Co
Pinwheel Calculator
See also: US 209,416
CH 4,578
21-11-1891
21-11-1891
Willgodt Theophil Odhner
Improved calculator
See also: SE 3,264, US 514,725
DE 197,626
14-04-1907
23-04-1908
Valentin Jakob Odhner
Quick clearing lever
See also: FR 377,203, US 885,514
SE 47,868 C
14-08-1917
13-10-1920
Aktiebogalet Original-Odhner
Back transfer mechanism
See also: AT 84,726 B, FI 8,194, FR 514,802
SE 48,897 C
08-06-1918
06-04-1921
Aktiebogalet Original-Odhner
Counter disabling mechanism
See also: DE 344,917, GB 152,553,
SE 51,376 C
24-10-1918
05-04-1922
Aktiebogalet Original-Odhner
Carriage shift buttons
See also: AT 85,407 B, CH 87,402, DK 27,090 C, FI 8,063, DE 342,373, FR 505,355, GB 134,217, US 1,385,350
GB 125,999
25-04-1919
05-02-1920
Valentin Jakob Odhner
Improved clearing mechanism
DE 339,429
30-12-1919
25-07-1921
Valentin Jakob Odhner
Lock crank when clearing register
See also: GB 128,217, US 1,392,847
DE 333,180
04-02-1920
18-02-1921
Aktiebogalet Original-Odhner
Lock input during crank cycle
See also: CH 88,214, FR 509,579, FR 509,580, GB 138,095, GB 138,096
CH 88,213
05-02-1920
01-02-1921
Aktiebogalet Original-Odhner
Crank cradle
See also: FR 509,581, GB 138,097
GB 162,516
06-04-1920
05-05-1921
Aktiebogalet Original-Odhner
Clearing mechanism
CH 89,077
10-04-1920
02-05-1921
Aktiebogalet Original-Odhner
Carriage shift mechanism
See also: FR 513,963
FR 513,704
14-04-1920
22-02-1921
Aktiebogalet Original-Odhner
Improved number wheel alignment
CH 88,215
26-05-1920
16-02-1921
Aktiebogalet Original-Odhner
Counter direction switch
See also: FR 516,557, GB 161,848
FR 522,197
08-07-1920
27-07-1921
Aktiebogalet Original-Odhner
Calculator improvements
DE 378,837
19-08-1922
06-08-1923
Aktiebogalet Original-Odhner
Mechanism for non-decimal display
See also: GB 196,271
DE 394,334
11-08-1922
17-04-1924
Aktiebogalet Original-Odhner
Rounding mechanism
DE 410,437
20-08-1924
07-03-1925
Aktiebogalet Original-Odhner
Input display register
DE 414,402
16-09-1922
02-06-1925
Aktiebogalet Original-Odhner
Non-decimal calculator
See also: GB 186,071, GB 211,420
DE 454,898
13-03-1927
18-01-1928
Aktiebogalet Original-Odhner
Crank handle
DE 457,824
19-06-1927
24-03-1928
Aktiebogalet Original-Odhner
Resetting carry switches
DE 457,827
13-08-1927
24-03-1928
Aktiebogalet Original-Odhner
Method of attaching drum to axle
DE 465,656
21-06-1927
21-09-1928
Aktiebogalet Original-Odhner
Carriage rail adjustment
DE 483,250
10-10-1928
30-09-1929
Aktiebogalet Original-Odhner
Automatic counter direction
DE 508,203
05-11-1929
25-09-1930
Aktiebogalet Original-Odhner
Manual counter direction
DE 886,667
16-05-1939
17-08-1953
Aktiebogalet Original-Odhner
Setting nines for complementary subtraction in double register machines
---
Links
Rechner Lexicon has a page about Odhner, which has links to many pages for specific models, including Arithmos, and the model 24.
Rechenmaschinen-Illustrated has pictures of many Odhner calculators, and a table of Odhner serial numbers.
Cris Vande Velde has a very early Odhner, a model 24, a page about the prototypes at the Smithsonian, and the Odhner LuSiD.
Rechnen Ohne Strom has a several Odhner models.
W.T.Odhner Memorial Site by Kevin Odhner.
John Wolff has page of various Odhner models, a technical description, and a complete rebuild of the Odhner Model 127.
Christofer Noering's Swedish Typewriter Page has various Odhner models, and a model family tree overview.
Thomas Kirchhof has a Odhner model 27, and a Odhner model 239.
Christian Hamann has a Odhner model 7, a Odhner model 27, and a Odhner model 239
Detlev Bölters has an Odhner Arithmometer type A, an Odhner Arithmos type 1, an Odhner model 29, and many others.
---
© Copyright 2021-2022 Jaap Scherphuis, mechcalc a t jaapsch d o t net.