Home /
Burroughs
Burroughs Calculator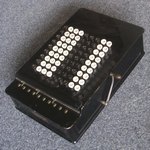 ---
The Burroughs Adding Machine Company
My Burroughs Calculator
Video
Books and Manuals
Tables
Advertisements, brochures, and sales leaflets
Paraphernalia
Patents
Links
---
The Burroughs Adding Machine Company
William Seward Burroughs invented an adding listing machine in 1884, and in 1888 the American Arithmometer Company was formed to market it. When the company moved from St. Louis to Detroit in 1904, it was renamed the Burroughs Adding Machine Company, in honour of its founder who had died six years earlier.
The early Burroughs adding machines, the Class 1, were quite large and heavy, requiring their own metal table stand. They were listing machines, i.e. they had the ability to print the results, though the printing mechanism seems to have been an optional extra. There were glass panels on all sides of the casing so that the mechanism was visible to the user, because apparently many people were sceptical and mistrustful of the salesmen for these newfangled machines. Various models of these Class 1 machines were made until the 1930s. Class 2 machines were very similar, but had two registers. Burroughs were early adopters of electricity, supplying electrically driven adding machines as early as 1906.
The Pike Adding Machine Company had developed a much smaller adding listing machine. This relatively compact machine could sit on a desk, and the printed paper came out of the top, like a typewriter or cash register, making it easy to see the result. The Burroughs Adding Machine Company took over the Pike Adding Machine Company in 1909, and these small adders then became Class 3 Burroughs machines. Burroughs would often buy out smaller rival companies before they grew large enough to compete, and then further develop or discontinue the acquired machine designs.
In 1912 Burroughs advertised that they had 86 different models, with 492 combinations. This shows that they were masters at customising their machines to the exact special applications that their customers needed.
The Burroughs listing adding machines had easily outcompeted Felt & Tarrant's Comptograph, but Felt & Tarrant was too large a company to take over due to the success of the Comptometer. In 1911 Burroughs decided to go head to head with them by releasing a non-listing key-driven calculator that was very similar to the Comptometer. Burroughs deliberately styled the case of their new calculator to look very similar to the Comptometer. It also had one column/digit more, so that their salesmen could say that the Burroughs machine was better. Through litigation Burroughs were forced to change the casing, so from 1915 onwards the Burroughs non-listing key-driven calculators (the Class 5) have rounded black cases with small legs. The Burroughs calculators with the shoebox casing are therefore somewhat rare.
While Burroughs sold a large number of the Class 5 calculators, they were not as successful as Felt & Tarrant's later Comptometer models, as they did not have the error detection mechanisms that made the Comptometer so safe to use. Nevertheless the Burroughs Calculator was developed further, including ones with subtraction cut-off buttons, electric models, and ones with dual registers. Burroughs remained very successful with their many listing machines, cash registers, typewriters, bookkeeping machines, as well as various other office machines, and developed a large range of machines for various more specific business operations such as bank processes. They also successfully made the transition into the electronic age, by buying electronics companies to produce early tube computers, tape storage machines, and later electronic calculators.
---
My Burroughs Calculator
This is the first Burroughs Calculator (as opposed to adding listing machine). It was first made in 1911 and deliberately styled to resemble the Comptometer. The court case brought by Felt & Tarrant concluded in 1915 and forced them to change this deceptive practice, so from then on the Burroughs Calculator had a very different design.
Here are some notable comparisons with the Comptometer:
The case has almost the same size and shape as the Comptometer, except that it is painted black. The cover over the register even has a similar S-curve, and is attached in the same way except that at the front it is held by a small lock instead of screwed down.
The keys tops are virtually the same as those of the Comptometer - black and white, octagonal, and the odd numbered keys have a more concave surface to help touch typing.
The Burroughs Calculator has 9 full columns of keys, 10 digits, which is one more than the standard Comptometer.
The stems of the keys are flat like the Comptometer, but oriented parallel to the columns rather than the rows. Note that in the redesigned version of the Burroughs Calculator they are row-oriented like the Comptometer.
The Burroughs Calculator has no carry suppression tabs. Subtracting a number is the same as in the Comptometer, you have to enter the tens complement, but this complement must include all the leading nines. For this reason, there is an unmarked 9 button in the otherwise empty keyboard column above the leftmost digit.
The Burroughs Calculator does not have a Controlled-Key or similar error detection mechanism. To be fair, the contemporary model C Comptometer did not have this either, as it was first seen a few years later in the 1913 model E. Therefore partially depressing and releasing a key will add a smaller digit than was intended.
The numeral wheels are driven by a clever planetary gear arrangement, which allows each wheel to react to the input from a key and from a carry simultaneously. Therefore the carry from one wheel to another can be carried out at any time, whereas in the Comptometer the carry is temporarily delayed until the receiving wheel has stopped moving.
The zeroing lever is pulled forward and released to clear the register, whereas in the Comptometer at the time it was moved in the other direction. The clearing mechanism also seems to be more robust than that of the Comptometer. It wasn't until the 1920 Model H that the Comptometer made a better clearing mechanism with a lever that also moved forward.
According to the instruction handbook, on the earliest versions of the shoebox Burroughs Calculator the small co-digits on the keys were printed in red, and the clearing handle was attached with a screw, but on mine the co-digits are black, and the clearing handle can be pulled free and simply clicks back into place.
My Burroughs Calculator has serial number 206979. I do not have a key for unlocking the register cover, but the part of the cover that the lock latches onto is missing so the cover can easily be removed without a key. There are several scratches on the top plate of the case, but otherwise the case is in good condition including the logo on the front. Mechanically it works perfectly.
---
Video
Here is a video where I demonstrate my Burroughs Calculator.
---
Books and Manuals
Handbook of Instruction for Operators of the Burroughs Calculating Machine Non-Listing
Burroughs Adding Machine Company; Detroit, Michigan, U.S.A.
Copyright 1911
96 page book
132mm × 197mm × 6mm
Form 1111A
Instructions for Operating the Burroughs Calculator (PDF, 10.8 MB)
Burroughs Adding Machine Company
Copyright 1928
31 page stapled booklet
213mm × 273mm × 3mm
Form 1-78-5
Instructions pour utiliser la Burroughs Calculator (PDF, 19.4 MB)
Société Anonyme Burroughs
Copyright 1929
31 page stapled booklet
218mm × 274mm × 3mm
Manual of Instruction for the Burroughs Calculator
Burroughs Adding Machine Company; Detroit, Michigan, U.S.A.
Copyright 1929
254 page comb bound book
222mm × 288mm × 22mm
Form 505
Comptometer Course
By Madge Warner
Published by Wilson's Modern Business College, 2003 Fifth Avenue, Seattle, Washington.
Copyright 1937
58 page staple bound book
228mm × 288mm × 8mm
How to Use the Calculator and the Comptometer (PDF, 50.1 MB)
By James R. Meehan
Published by Gregg Publishing Division, McGraw-Hill Book Company, Inc.
Copyright 1940, 1947, 1952
Third Edition
128 page stapled book
217mm × 280mm × 7mm
Key-Driven Calculator Course
By Raymond Charles Goodfellow and Peter Lawrence Agnew
Published by South-Western Publishing Company
Copyright 1942
Second Edition
167 page book
213mm × 272mm × 9mm
Key-Driven Calculator Course for the Burroughs Calculator and Comptometer
By Raymond Charles Goodfellow and Peter Lawrence Agnew
Published by South-Western Publishing Company
Copyright 1949
Third Edition
158 page ringbound book
281mm × 210mm × 8mm
---
Tables
Like Felt & Tarrant, Burroughs also printed several small tables to help the operator with common calculations. Such tables were usually printed on thick cardboard for durability.
Calculating Short Cuts (PDF, 11.7 MB)
Burroughs Adding Machine Ltd.
1940?
12 page stapled booklet
219mm × 242mm × 3mm
Decimal Equivalent Tables for Calculator Machine Operators
Burroughs Calculator Division, Burroughs Adding Machine Company
1944
54 page ringbound book
225mm × 279mm × 10mm
Decimal Equivalents of Common Fractions A useful chart issued for the convenience of operators of Burroughs Calculators.
Burroughs Adding Machine Ltd.
Form 3853-1
1929
216mm × 229mm
Decimal Equivalents of a Gross
Burroughs Adding Machine Ltd.
Form 3853-3
1925
216mm × 229mm
Pence and 1/8 and 1/16 as Decimals of a £
Burroughs Adding Machine Ltd.
Form 3853-10
1925
216mm × 229mm
Quarters and Pounds as Decimal Equivalents of One Cwt.
Burroughs Adding Machine Ltd.
Form 3853-6
1925
216mm × 229mm
Quarters and Pounds as Decimal Equivalents of a Ton
Burroughs Adding Machine Ltd.
Form 3853-4
1926
216mm × 229mm
---
Advertisements, brochures, and sales leaflets

Below are descriptions and photos of my collection of promotional material for the Burroughs machines.
If you are interested in adverts from newspapers and magazines, my Burroughs Advertisements page has a huge collection of scans of adverts from 1900 to the 1960s that I found in online archives.

Cheer Up and 52 Reasons Why
Burroughs Adding Machine Company; Detroit, Michigan, U.S.A.
1907 (Second edition)
59 page book
80mm × 114mm × 6mm

A Better Day's Work at a Less Cost of Time, Work, and Worry to the Man at the Desk
Burroughs Adding Machine Company; Detroit, Michigan, U.S.A.
1910 (Fourth edition)
192 page book
130mm × 190mm × 13mm

Helping Ford Handle His Millions A Romance in Dollars and Cents (PDF, 19.1 MB)
Burroughs
1915 (First edition)
36 page book
107mm × 152mm × 8mm

Burroughs Brochure (PDF, 31.9 MB)
1929?
116 page ring bound book
216mm × 130mm (binder), 200mm × 126mm (pages excluding tabs)

La Burroughs Portable
1929?
1 perforated page
212mm × 274mm

Magazine and Newspaper Advertisements
The Burroughs company has done a lot of advertising throughout its existence. I found many images of adverts online, but very few for the shoebox Burroughs Calculator. It may be that they stopped advertising it soon after they were sued by Felt & Tarrant, so I only found adverts from 1912, even though the court case did not end until 1915.
To see the full list of adverts I found, from 1900 to the 1960s, visit the Burroughs Advertisements page.
---
Paraphernalia
Burroughs Lighter
Burroughs School Certificate
---
Patents
The Burroughs Adding Mahine Company filed a large number of patents about all aspects of their many machines. The shoebox Calculator has two patent dates printed on its case, which are the ones listed below.
| Patent | Filing date | Publish date | Name | Description |
| --- | --- | --- | --- | --- |
| US 1,016,501 | 18 Apr 1911 | 6 Feb 1912 | Allen A. Horton | Burroughs Calculator. |
| US 1,023,168 | 5 Jul 1911 | 16 Apr 1912 | Walter J. Pasinski | Improvement to carry mechanism. |
---
Links
The Burroughs Homepage by Michael Hancock. In depth information about Burroughs machines and the company.
John Wolff's Web Museum's page on the Burroughs machines, including the Calculator.
---
© Copyright 2016 Jaap Scherphuis, mechcalc a t jaapsch d o t net.