Home /
Precisa
Precisa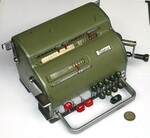 ---
Precisa 117
Video
History
Models
Advertisements
Patents
Links
---
Precisa 117
The Precisa 117 is a mechanical calculator that is clearly inspired by the design of the Facit. Like the Facit, it is a pinwheel machine where it is the input register that is mounted on a moving carriage instead of the main register and counter, and it has a Dalton style 10-key keyboard. The crank is positioned ergonomically at an angle towards the user.
Each of the three registers has a clearing lever. The front lever on the left clears the input register. The paddle below it is just a fixed support so that you can push down the input clearing lever using a squeezing motion. To the rear of the left side is the clearing lever for the main register, and on the right rear is a similar lever for the counter.
There are just 3 control keys. There are two arrow keys which simply shift the input carriage one step to the left or right. The key marked DIV shifts the input carriage all the way to the left, which is handy for division. It also affects the way the counter reacts. A single addition will not be registered, which allows you to enter the dividend, and any subtractions will be counted positively in order to perform the division calculation.
This model was in production from 1952 until 1963. The serial number is 151,193 which seems to be early in the production, say about 1953. Later versions have round handles on the clearing levers, a larger Precisa logo, and often are painted silver grey instead of green.
---
Videos
---
History
Ernst Jost founded the company Ernst Jost AG in Zürich, Switzerland, in 1916. He sold office machinery, including calculators such as Brunsviga and Rheinmetall. In around 1930 he must have decided that there was a market for a new adding-listing machine, and he enlisted the help of some engineers to make that happen, including Erwin Jahnz who had designed the first MADAS machines. In 1935 they founded the Precisa company in order to manufacture the prototype they had made. Jost's office machine company was bought by Theo Muggli (see Direct). In 1942 the production was moved to Zurich - Oerlikon
Precisa made many improvements to their adding machine, and made many other variants of it over the years. They only ever made one non-printing calculator, which was the model 117 shown above.
In 1964 Precisa merged with Hermes, a company that mostly made typewriters, and became Hermes-Precisa International. The calculators continued to be marketed using the Precisa brand name, though in some territories they were rebadged as Hermes. The mechanical calculator market collapsed with the arrival of electronic calculators, but the company managed to continue making mechanical calculators and typewriters until 1978 when it was bought by Olivetti.
It should be noted that Hermes-Precisa had also begun diversifying, by manufacturing precision scales and other measuring equipment. This part of the company seems to have been split off as an independent entity when Olivetti bought the rest, and it still continues today as Precisa Gravimetrics.
Models
The first Precisa adding machine was the model M 1 from 1935. It was able to handle negative totals. In about 1944 it was replaced by three new models, the M 2, M 3, and M4. The M 2 was a redesign of the M 1, while the M 3 was a cheaper version of the M 1 with a smaller capacity. The M 4 was like the M 1 but provided new functionality in the form of an extra register allowing for subtotals and totals.
The model designations then become incredibly confusing. It seems that the M models were renamed, and many variants were introduced including of course electrically powered ones. When the casing was restyled in around 1957, the same model numbers were sometimes used. In the table below I have listed only some of the many models, grouped into visually similar types. All the information is based on Rechner lexikon, combined with a fair amount of guesswork.
Name
Years
Capacity
Notes
Precisa M 1
1935-1944
10×11
Precisa M 2
1944-1950?
10×11
Precisa M 3
1944-1950?
7×8
Precisa M 4
1944-1950?
10×(11+11)
Precisa 102
1950?-1956
10×11
Also as models 102-1, 1021. Similar to M 2.
Precisa 103
1950?-1957
7×8
Also as models 103-1, 1031. Same as M 3.
Precisa 104
1950?-1957
10×(11+11)
Also as models 104-2, 1042. Same as M 4.
Precisa 106
1950?-1956
10×11
Also as models 106-2, 1062. Same as M 2.
Precisa 110
1950?-1956
10×11
Also as models 110-2, 1102. Electric.
Precisa 117
1952-1963
9×8×13
Pinwheel calculator. Non-printing.
Precisa 103
1957-1962
7×8
Restyled version.
Precisa 106
1957-1962
10×11
Restyled version. Also as models 106-2, 1062.
Precisa 110
1957-1962
10×11
Restyled version. Electric.
Precisa 182
1957-1963
12×(13+13)
Electric.
Precisa 176
1957-1963
12×(13+13)
Electric. Multiplication.
Precisa 170
1957-1963
17×(17+17)
Electric. Multiplication and division.
Precisa 108
1961-1978
8×9 or 10×11
Manual.
Precisa 208
1961-1978
8×9 or 10×11
Electric.
Precisa 308
1969-1978
10×5×11
Electric. Multiplication.
Precisa 160
1961-1975
8×9 or 12×13
Electric.
Precisa 162
1963-1975
12×13
Electric. Extra storage register.
Precisa 164
1963-1978
12×13
Electric. Multiplication.
Precisa 166
1966-1978
12×13
Electric. Multiplication and division.
---
Advertisements
Here are a few adverts found mostly in Swiss newspapers.
---
Patents
Erwin Jahnz and Precisa filed very many patents on all aspects of the mechanisms of the machines. Below is a small selection of them.
Patent
Filing date
Publish date
Name
Description
CH 146299
15-04-1930
16-06-1931
Erwin Jahnz
Reversing gear
CH 184044
07-10-1942
02-09-1946
Eugen Benninger
Pegboard for input storage
See also: US 2062963
DE 928430
22-09-1951
02-06-1955
Precisa A.G.
Input lock (model 117)
See also: BE 506601
CH 300652
06-02-1952
16-10-1954
Precisa A.G.
Calculator (model 117)
BE 509804
08-03-1952
31-03-1952
Precisa S.A.
Input lock (model 117)
CH 309578
11-02-1953
16-11-1955
Precisa A.G.
Soundproofing for keyboard
DE 1091782
09-02-1954
27-10-1960
Precisa A.G.
Division setting (model 117)
See also: SE 181163
CH 345183
11-06-1956
29-04-1960
Precisa A.G.
Automatic division
---
Links
Precisa has a page about the history of the Precisa company..
Rechner Lexicon has a page about Precisa, which has links to pages for specific models, including the Precisa 117. There is also an in-depth Precisa 117 article by Peter Haertel.
Rechenmaschinen-Illustrated has pictures of various Precisa calculators including the 117.
John Wolff has page of later Precisa adding machines.
John Scriven's collection has a page about the Precisa 117.
---
© Copyright 2021 Jaap Scherphuis, mechcalc a t jaapsch d o t net.